ISIS behind the attacks in Baghdad that killed over 90 people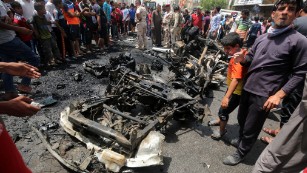 At least 64 people were killed when a car bomb went off at a market in Baghdad Wednesday morning, according to Iraqi police. Another 87 people were wounded in that attack in the largely Shiite neighborhood of Sadr City.
Pictures of the aftermath of the explosion showed hundreds gathered near a chaotic scene. Blood marked the street, cars had their windows blown out and nearly an entire sidewalk was left charred.
Later in the day, a suicide bomber wearing an explosive vest detonated in a busy square in the Shiite neighborhood of al-Kadhimiya, killing 17 people and wounding 43 others, two police officials in Baghdad told CNN. A suicide car bomber exploded in the Sunni neighborhood of al-Jamia in western Baghdad, killing 12 people and wounding 31 others.
ISIS attacks come in security vacuum
Experts have said that a security vacuum has opened in Iraq amidst the political turmoil the nation has been facing lately. Prime Minister Haider al-Abadi struggles to firm up a government capable of battling ISIS and, at the same time, continue to address problems related to Iraq's long-standing economic and political wounds from years of war.
ISIS, a Sunni terror group, has claimed responsibility for a number of attacks in Iraq in recent weeks, including one last month east of Baghdad in which more than two dozen people were killed.
CNN