Saudi Prince Mohammed Bin Salman challenges Kingdom's old ways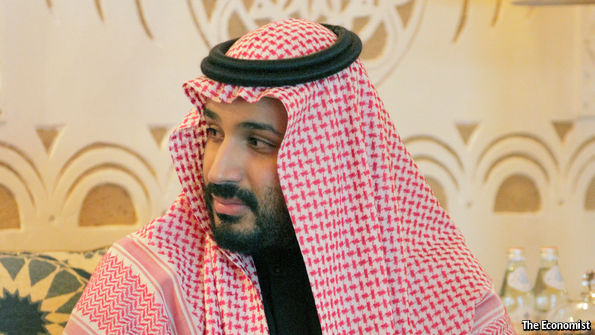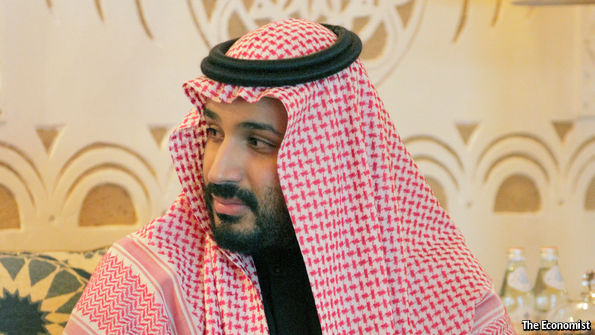 Saudi Deputy Crown Prince Mohammed bin Salman got a standing ovation when he visited a gathering of Saudi youth last month. Last week, after hearing about his economic plans in a meeting with religious leaders, one of the kingdom's most conservative sheikhs tweeted a smiling selfie of himself with the prince.
Whether the 31-year-old son of King Salman will achieve his goal of modernising the kingdom's economy is the subject of animated debate on social media, in office buildings and at coffee shops here.
The plans, aimed at ending dependence on oil by 2030, require shaking up a bureaucracy that has stymied changes in the past, challenging powerful religious conservatives and building up a private sector currently reliant on state spending.
Diplomats and economists say the programme, which relies on the private sector driving growth and providing new sources of revenue to the state via new taxes and fees, will be exceptionally difficult to implement.
"Saudi Arabia is far away" from its economic goals, said Steffen Hertog, an economist at the London School of Economics (LSE) who studies the kingdom.
The prince's close aides acknowledge the difficulties. Some ruling family members fear too rapid economic changes could cause social unrest or tension inside the Al Saud dynasty, Saudi analysts say.
Yet in this country of 20 million Saudis and 10 million expatriates, the rise of Prince Mohammed — who runs economic, defence and oil strategy — underscores a dramatic shift towards a leadership seemingly more in tune with the needs of a country where 70 percent of the population is under 30.
It is the first time that effective power has passed from the royal gerontocracy of 70- and 80-something rulers to a third generation of a family founded by the prince's grandfather, known as Ibn Saud.
King Salman still has the final word, but he has delegated nearly unprecedented powers to his son.
That has meant changes in style and substance. Prince Mohammed works 16-hour days — unlike the more sluggish schedules of his older predecessors — and has appointed business people and economic experts instead of other royals to top jobs.
Many younger Saudis see the rise of a man who is usually referred to as "MbS" as evidence their generation is at last playing a role in a country whose patriarchal traditions had made power the province of the old.
"I'm so excited! I want him to be our king now. I mean he's open-minded, has a great plan and maybe a little handsome," said Najla, 20, who did not wish to give her family name.
That backing, and widespread fears about plunging oil prices, is providing MbS with an important springboard for his efforts. When in December, he and his team raised petrol prices — a step previous administrations had hesitated to take for fear of public backlash — Saudis took the move in stride.
The lack of protests surprised MbS, according to people close to the prince, but also helped convince him that Saudis were ready for a change.
Jihad al-Najjar, one of those who lined up outside petrol stations that night to fill up on the lower cost fuel, said he understood the country could no longer afford such subsidies.
"It's not the real price," the 22-year-old medical student said.
Abdulaziz al-Sager, head of the Jeddah and Geneva-based Gulf Research Centre, says there is a growing recognition among Saudi leaders that the oil-based economic system is not sustainable. That will necessarily lead to social and political change.
"You cannot do the economic change and the transformation without some sort of political change," he says. "That raises the question of what sort of a new social contract we are going to have."
CONFIDENCE
Few had heard of Prince Mohammed before his father, 80-year-old son of modern Saudi Arabia's founder, became the kingdom's 7th monarch in January 2015. Today, Prince Mohammed is second in line to rule behind Mohammed bin Nayef, a cousin who is crown prince and, as Interior Minister, head of internal security.
Unlike many other royals, Prince Mohammed did not go to school abroad but graduated from King Saud University with a law degree. Informed Saudis who follow royal affairs say he is the favoured son of King Salman, who made him his personal adviser at a very young age.
In his few public appearances with journalists, the powerful prince projects confidence.  He listens to questions in English but speaks through the Royal Court's interpreter, and sometimes corrects the interpreter's phrasing of English translations.
His picks for top cabinet positions and senior advisers have leant more heavily on former businessmen than those of former administrations, which relied more on professional bureaucrats.
Last week, Prince Mohammed officially unveiled Saudi Vision 2030, his blueprint to move the economy decisively from that he called its "addiction to oil" towards the private sector.
The phased removal of subsidies on fuel, water and electricity — part of the welfare lavished on Saudis, of whom about four out of five workers hold public sector jobs — is already underway.
The new plan includes earning non-oil income from private investment and privatisation and setting up the largest sovereign wealth fund in the world. The idea is to create millions of new jobs and raise the participation of women in the workforce from 22 currently to 30 percent by 2030.
The plans also include selling a stake of less than 5 percent in Saudi Aramco, the state oil giant, and placing the proceeds and the company in the Public Investment Fund (PIF), along with other assets that could eventually create an investment vehicle worth up to $3 trillion.
Another ambitious target is to locally source 50 percent of Saudi military procurements — part of the third largest defence budget in the world — by 2030, up from a mere 2 percent now.
Many diplomats, analysts and economists say the magnitude of the goals — including the primary one of ending dependence on oil by 2020 — defy credibility.
"To achieve the economic goals, the kingdom would need a thriving non-oil private sector that caters to private demand, offers sufficient productive jobs for nationals and produces substantial non-oil exports of goods and services," said the LSE's Hertog, who has written a book about how the Saudi government works.
RELIGIOUS CONSERVATIVES
There are social challenges because some of Prince Mohammed's ambitions, including giving women a bigger economic role, will anger religious conservatives, the source of the most dangerous threats to Al Saud rule since the kingdom was founded.
Some had hoped, for example, that Vision 2030 would include moves to lift the ban on women driving, which it did not. Answering a question on it, the deputy crown prince said the issue was a social rather than religious question, therefore it was up to society to decide.
Moreover, the country's education system is traditionally regarded as under the thumb of religious fundamentalists who, among other things, insist on the cloistering and segregation of women, hindering their ability to enter the workforce.
Some older Saudis, ruling family members and Saudi businessmen fear that Prince Mohammed's plans to streamline the kingdom's bureaucracy could cause social fractures if they fail to maintain comfy living standards or soothe conservatives.
And MbS's meteoric rise has also prompted rumours among some Saudi analysts of friction with Crown Prince Mohammed bin Nayef, 56, a veteran security chief and a favourite of Riyadh's top ally, the United States.
So far, both men have appeared careful in public, with the younger prince showing deference and respect to his cousin, diplomats say.
Prince Mohammed and his close advisers appear fully aware of the entrenched resistance they will face — and are working to overcome it.
For example, MbS — like his father and previous Saudi rulers — has devoted significant effort to wooing clerics, who have great influence in the legal system. One adviser said that the prince meets between four and five religious leaders a week.
Last week, right after announcing 2030 Vision to reporters, he met a group of religious and intellectual leaders in the next room and directly assured them that he would not go too far. When asked about the issue of women drivers, he turned specifically to look at the religious leaders and said it would not happen yet, a person present said.
Young people say they like MbS's business-like approach of announcing systemic plans, rather than speaking in generalizations as many of his predecessors did.
Still, there is a long road ahead, especially on social change, they say.
"I'm waiting for the moment where I can travel without a male with me," said Najla. "And drive — I already know what car I want," she said, sending by phone a picture of a bright red sports car.
© Thomson Reuters 2016