Bassil calls Lebanon's dissociation policy a joke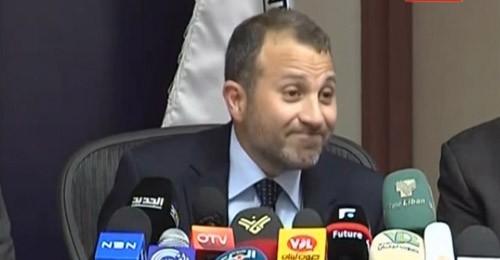 Foreign Minister Jebran Bassil  called Tuesday  Lebanon's Baabda declaration policy which calls for distancing Lebanon from regional conflicts   a joke  during remarks  about the country's foreign policy  and  claimed that the existence of several foreign policies yields lack of national unity  reported the National News Agency.
"This has resulted in the creation of such jokes as the policy of disassociation, which is aimed at evading disputes."
The Baabda Declaration was adopted in June 2012 during a national dialogue session headed by former president Michel Suleiman.  The rival March 8 and 14 camps all agreed to distance Lebanon from regional and international conflicts. The participants also all agreed to back the Lebanese army both financially and morally as the guarantor of civil peace and national unity.
"The most successful foreign policies are independent ones," Bassil explained.
The Iranian backed Shiite militant group Hezbollah decided to renege on the Baabda Declaration and decided to join the war in Syria by joining the forces of Bashar al Assad against the mostly Sunni opposition.
Bassil who heads up the Free Patriotic Movement, a key ally of Hezbollah  has not been following independent policies according to observers  . On the contrary , he has been siding with Hezbollah in all his foreign policy decisions , observers assert .