Siniora: Hezbollah's Iran ties tarnished Lebanon's relations with the Arab countries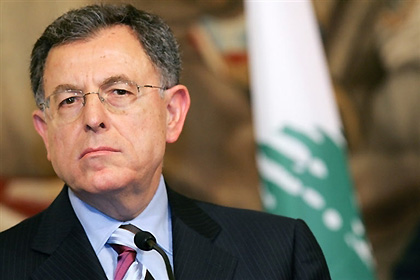 Former Lebanese prime minister and current Future Movement parliamentary bloc leader MP Fouad Siniora blamed Hezbollah's "meddling" in Lebanese affairs at Iran's bidding has turned the country into a "body without a head," reported Ashara al-Awsat daily on Sunday.
Siniora told the daily that the ongoing vacuum in the presidency "has created a huge void and allowed Iran's ties with Hezbollah to tarnish Lebanon's relations with Arab countries, especially Saudi Arabia."
He called on Tehran to "distance itself from interfering in the internal affairs of Arab countries."
Iran's "systematic" intervention in Lebanon through Hezbollah has caused the state to lose the ability to build its institutions in a responsible manner, continued the former PM.
This has created a "major political setback" that has affected Lebanon's "historic" ties with Arab countries.
Several Lebanese March 14 politicians accused Iran on several occasions of being behind the presidential vacuum in Lebanon and today Saudi daily Okaz confirmed that Iran is definitely behind the ongoing vacuum in the presidency in Lebanon.
Western diplomatic sources in Beirut explained to the daily that Tehran is seeking a "complete package deal that covers the entire region, which includes the presidency."
Iran is waiting for how developments will unravel in Syria, Yemen, and Iraq, continued the sources.
The Lebanese parliament failed again on April 18 and for the 38th time in a row to elect a president to replace Michel Suleiman whose term ended on May 25 , 2014.
As in the past sessions the parliament was unable to reach a quorum because the Iranian-backed Hezbollah militant group and its ally MP Michel Aoun's Change and Reform bloc MPs boycotted the session, because they could not reportedly guarantee Aoun's election as a president
Speaker Nabih Berri a key ally of Hezbollah postponed the election to May 10, 2016.
Hezbollah earlier this year said it would boycott the presidential elections until it receives guarantees that its candidate Aoun, is elected head of state, but several politicians doubted Hezbollah's intentions specially after the emergence of Aoun and Franjieh as the the 2 main candidates . Both are in the Hezbollah-led March 8 alliance.
Many analysts are of the opinion that Iran does not want Lebanon to have a president before the Syrian situation is resolved