Qatar requests 'emergency' Arab League meet on Syria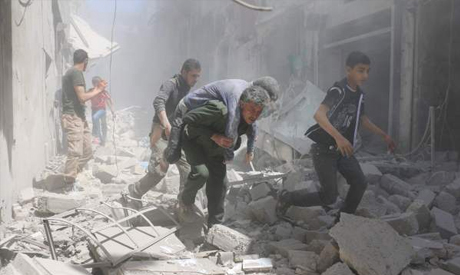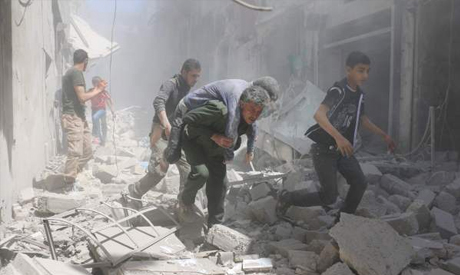 Doha has requested an "emergency" meeting of Arab League envoys to discuss deadly Syrian regime air raids on the war-ravaged city of Aleppo, the official Qatar News Agency reported Saturday.
Qatar's permanent envoy at the Cairo-based pan-Arab body has requested holding "a meeting to discuss the dangerous escalation in the city of Aleppo and the Syrian regime forces' massacres against civilians" there, said the statement on QNA.
The request comes after Russia said it will not ask the Syrian regime it backs to halt air raids on Aleppo, capital of the northern province of the same name and a key battleground in the five-year Syria war.
Some 250 civilians have been killed in Syrian regime air raids since April 22 or in army and rebel crossfire that has intensified despite a truce which came into force on February 27, according to the Syrian Observatory for Human Rights.
Regional heavyweight Saudi Arabia late on Friday "strongly" condemned the raids and urged the Syrian regime's allies "to take all measures needed to stop these attacks and all crimes carried out by (President) Bashar al-Assad and his supporters against the Syrian people."
"Through this criminal act, the tyrant of Damascus Bashar al-Assad, affirms that he is not serious in responding to the demands of the international community or in moving ahead with the ongoing talks to peacefully resolve the Syrian crisis," said a Saudi foreign ministry official in a statement on the SPA news agency.
A new round of UN-backed peace talks is set to start on May 10 in Geneva.
Qatar and Saudi Arabia support Syrian rebels fighting Assad's Russian- and Iranian-backed regime in a conflict which has killed more than 270,000 people since it began in March 2011.
Another Gulf state, the United Arab Emirates, made similar remarks Saturday urging an end to violence and urging the UN Security Council to help end the bloodshed.
The UAE voiced its "deep concern" over the "Syrian government forces' immoral targeting of hospitals and medical services," in a foreign ministry statement on news agency WAM.
"This unjustified escalation against civilians" could derail the political process and the ceasefire, it warned.
A total of four medical facilities were hit in Aleppo Friday on both sides of the front line, according to the International Committee of the Red Cross.
A Syrian regime raid on Wednesday hit a hospital supported by Doctors Without Borders and the Red Cross as well as nearby housing, killing 30 people.
Ahram