U.N. envoy urges Obama, Putin to save Syria ceasefire, talks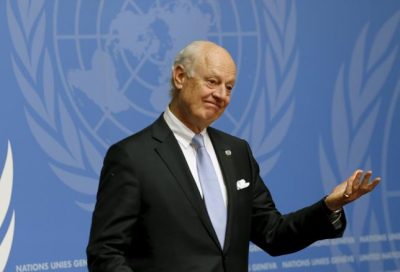 The United Nations mediator called on Thursday on the leaders of the Russia Federation and the United States to salvage the "barely alive" two-month ceasefire in Syria and revitalize the damaged peace process.
U.N. Special Envoy Staffan de Mistura spoke to reporters in Geneva after briefing the Security Council by video-link at the end of a two-week round of talks. The main opposition High Negotiations Committee pulled out of the formal talks a week ago, in protest of intensified fighting and slow aid deliveries.
Referring to the two powers, he said: "There is no reason that both of them which have been putting so much political capital in that success story and have a common interest in not seeing Syria ending up in another cycle of war should not be able to revitalize what they have created and which is still alive but barely."
REUTERS