Brazil president Dilma Rouseff blasts impeachment as process moves to the Senate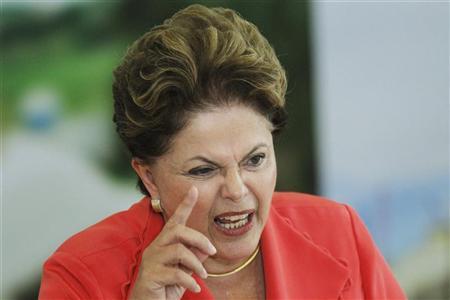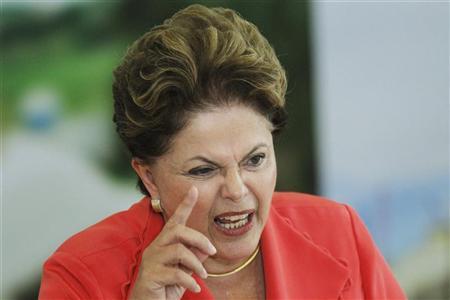 Brazil's President Dilma Rousseff vowed to defend her presidency, criticizing her impeachment by the lower house of congress on Sunday as an illegitimate and groundless act led by lawmakers who are themselves under a shadow of scandal.
"It was an injustice to me because those who presided over it are accused of illegality," Ms. Rousseff told reporters at a news conference late Monday. "It was an immense violence against truth, democracy and the rule of law."
Her statements set the tone for a last-ditch push to rebuild support for her embattled presidency as the impeachment process moves to the Senate, where a political trial is expected to get under way by mid-May. Ms. Rousseff is accused of breaking a fiscal responsibility law by using accounting tricks to mask Brazil's widening deficits—a practice she says was used by several previous presidents and never considered illegal.
Ms. Rousseff described the accounting issue as a pretext to convict her by politicians acting in their self-interests. Eduardo Cunha, the speaker of the lower house who oversaw the vote in Congress, is under indictment for corruption, and began the impeachment proceedings in December on the same day Ms. Rousseff's party declined to back Mr. Cunha in an ethics inquiry. Mr. Cunha has said his decision to bring impeachment was purely technical.
It is unclear how effective Ms. Rousseff's defense will be. The second-term leader's popularity has plunged to around 10% amid one of Brazil's deepest economic downturns ever and a sprawling investigation into corruption at the state oil firm Petróleo Brasileiro SA.
While Ms. Rousseff isn't accused of crimes in the Petrobras scandal, she was chairwoman of Petrobras while many of the crimes allegedly took place. A federal electoral court has opened a parallel investigation into whether her 2014 election campaign was partly funded by kickbacks from Petrobras.
Ms. Rousseff said she believes her government has a better chance to defend itself in the Senate than in the rough-and-tumble lower house, where lawmakers draped flags around their backs, shouted out finger-waving speeches, and in one ugly scene spit on each other, during a drawn-out vote that began late Sunday and ended in a 367-137 vote for impeachment, comfortably above the 342 votes needed.
Senate head Renan Calheiros has long said he opposed impeachment as damaging for Brazil's young postdictatorship democracy. Many political analysts, however, say they expect the Senate to convict Ms. Rousseff.
Ms. Rousseff must step down for 180 days if a simple majority of the Senate votes to begin an impeachment trial. She will be removed from office permanently if two-thirds of the Senate vote to convict her. Vice President Michel Temer would be acting president during the Senate trial and succeed her if she is convicted, presided over by the chief justice of the Supreme Court.
Leaders of Ms. Rousseff's leftist Workers' Party, or PT, spent Monday mapping out a multipronged strategy of resistance to impeachment.
Margarida Salomão, vice leader of the Workers' Party in the lower house, said the PT is trying to convince senators that the Brazilian public will never accept the leadership of Mr. Temer, whom opinion polls show to be as unpopular as Ms. Rousseff.
A recent survey by polling firm Datafolha showed that 60% of Brazilians surveyed would like to see both Ms. Rousseff and Mr. Temer resign.
"The population rejects Temer. They reject him strongly," Ms. Salomão said.
The PT also intends to marshal its followers in street demonstrations to express support for Ms. Rousseff and cast her impeachment as an coup d'état orchestrated by corrupt political foes.
Ms. Salomão said her party would extend a microphone in coming days to artists, intellectuals and civic leaders who have spoken out against impeachment, such as legendary composer-musician Chico Buarque.
"It will be an absolutely peaceful effort, as is the tradition of the PT, a nonrevolutionary leftist party," Ms. Salomão said.
If Mr. Temer does assume power, the PT may push for a constitutional amendment enabling entirely new elections, Ms. Salomão said. A person close to the party said a core group of PT supporters is actively backing the new-elections option.
Party officials planned to meet Monday and Tuesday in São Paulo to discuss these and other strategies.
Meanwhile on Monday, other top PT officials continued to denounce the impeachment process, comparing it to the 1964 military coup that launched Brazil's 20-year dictatorship, and to emphasize that Ms. Rousseff "will not bow," as Solicitor General José Eduardo Cardozo put it.
"The president is a strong woman," Mr. Cardozo said. "She knows how to fight the good fight."
Fernando Abrucio, a political scientist at the Getúlio Vargas Foundation in São Paulo, said he sees a 90% chance that the Senate will accept the impeachment case. But he thinks the PT "will fight to the end, defending Dilma's honor."
If Ms. Rousseff doesn't survive, the PT will double down on its efforts to win the 2018 presidential election, analysts say.
Luiz Inácio Lula da Silva, Ms. Rousseff's mentor and presidential predecessor—who remains the country's most popular, if polarizing, politician—has hinted he may run for president again in two years. That option partly depends, however, on whether he can fend off a range of criminal allegations stemming from a massive corruption investigation centered on Brazil's state oil company Petróleo Brasileiro SA, or Petrobras, that has implicated dozens of politicians and businessmen. Mr. da Silva has denied any wrongdoing.
Meanwhile, the heat would be on Mr. Temer, Ms. Rousseff's likely successor, to shoulder responsibility for fixing Brazil's broken economy. Some high-ranking members of Mr. Temer's PMDB party are also implicated in the Petrobras scandal, and if any are toppled in the probe, the party's chances in 2018 could be diminished.
"The PT will likely fare better in the 2018 presidential election without Dilma in power," Mr. Abrucio said.
David Fleischer, a political analyst and professor emeritus at the University of Brasília, said the PT's ability to mobilize opposition to Mr. Temer in congress has been weakened by a rash of its members recently switching to other parties. Those defections could also hurt the PT in nationwide municipal elections scheduled for October.
"If I were the PT, I would concentrate all my efforts in trying to turn that around, in trying to improve my chances in the municipal elections," Mr. Fleischer said.
Pushing for an earlier presidential election also would pose major challenges for the Workers' Party, he said.
"To do that, they probably would have to include elections for deputy, senator, governor, etc., which would not be very popular with those [officeholders]," Mr. Fleischer said.
WSJ