Strong 7.8 quake off Ecuador causes 'considerable damage', hundreds killed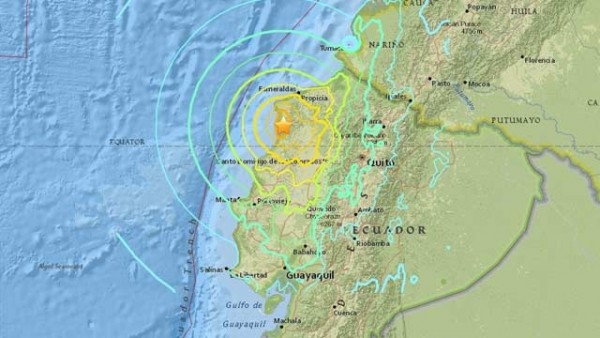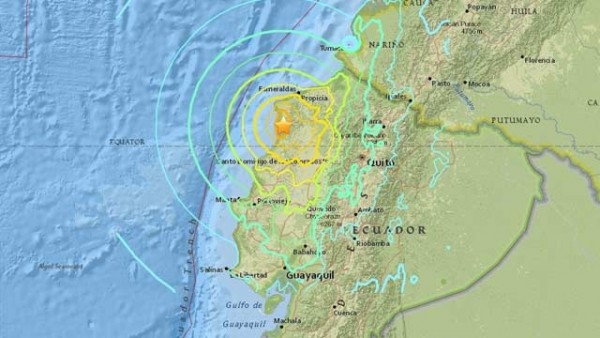 A strong earthquake of magnitude 7.8 struck off the northwest Pacific coast of Ecuador late on Saturday, causing "considerable damage" near the epicenter as well as in the commercial hub of Guayaquil, the government said.
Confused residents in the capital Quito streamed into the streets and authorities warned of strong waves on the Andean nation's coast.
"I was in my house watching a movie and everything started to shake. I ran out into the street and now I don't know what's going to happen," said Lorena Cazares, 36, a telecommunications worker in Quito.
Social media pictures showed a collapsed bridge in Guayaquil and a collapsed tower at an airport in the city of Manta.
"There is considerable damage in the area of the epicenter and also as far away as places like the city of Guayaquil," the Geophysics Institute said in a bulletin, but gave no details.
It said the quake struck at around 8:00 p.m. (0100 GMT) at a depth of 20 km (12.4 miles).
Some parts of the capital were without power or telephone service, with many communicating only via Whatsapp. Photos on social media showed cracks in the walls of shopping centers.
The capital's municipal government later said power had been restored and there were no reports of casualties in the city.
The Pacific Tsunami Warning Center said tsunami waves reaching 0.3 to 1 meter (one to three feet) above tide level were possible for some coastal areas of Ecuador.
Neighboring Peru issued a tsunami alert for the north of the country following the quake.
The quake was centered just off the coast at a shallow depth of 19 km (12 miles), according to the USGS.
Across the Pacific in Japan, a 7.3 magnitude tremor struck Kumamoto province early Saturday, killing at least 32 people, injuring about a thousand and causing widespread damage, in
the second major quake to hit the island of Kyushu in just over 24 hours. The first, late on Thursday, killed nine.
REUTERS
Update : Over 238 people were reported killed  and and hundreds more were wounded, the nation's president said. Ecuador was in a state of emergency Sunday after the magnitude-7.8 earthquake flattened buildings and ravaged towns Saturday just before 7 p.m. local time (8 p.m. ET).