Saudi envoy holds ice-breaking talks with Lebanon FM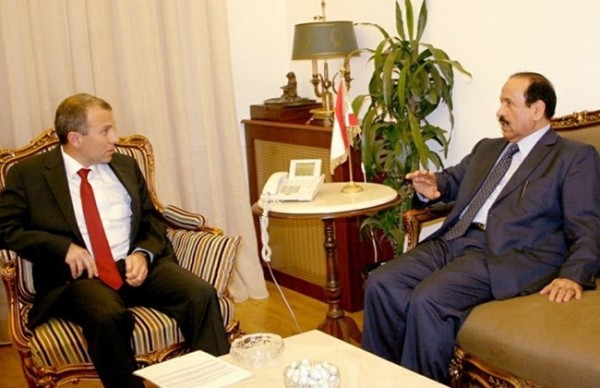 Saudi Arabia's Ambassador to Lebanon Ali Awad Asiri held a meeting with Foreign Minister Gebran Bassil Friday, the first between the two since the eruption of the diplomatic crisis between Beirut and Riyadh earlier this year, reported al-Liwaa newspaper on Saturday.
Asiri did not make a statement after the ice-breaking talks, but only described them as "excellent " and headed straight for another meeting with Prime Minister Tammam Salam at the Grand Serail.
National News Agency, quoting the Foreign Ministry's media office, said Asiri emerged from the meeting with Bassil with signs of satisfaction seen on his face.
It said Asiri's previously unannounced visit to Bassil was shrouded in complete secrecy.
Asiri reviewed with Salam the situation in Lebanon and developments in the region, in addition to bilateral relations between the two countries, NNA said, without giving further details.
In February, Saudi Arabia decided to suspend $4 billion in grants to the Lebanese military and police over what Riyadh perceives as "hostile" stances linked to Hezbollah and Iran at Arab League and Islamic meeting.
Bassil was largely blamed for the Saudi aid halt, having refused to endorse joint statements at Arab and Islamic conferences in Cairo and Jeddah in January condemning attacks on Saudi diplomatic missions in Iran and accusing Tehran of terrorism.
"What happened at the conferences in Jeddah and Cairo was a big mistake committed against the Saudi kingdom. The foreign minister's decision was unexpected especially given the strong relationship between Lebanon and Saudi Arabia," Asiri told France 24 Arabic at the time.
Bassil has repeatedly said that his position represented an agreement within the Cabinet for Lebanon not to get involved in regional conflicts.
Despite having come under intense pressure by members of the March 14 coalition in Lebanon over the moves, Bassil who is closely allied with the Iranian backed Hezbollah has stuck to his position and last month rejected an Arab League statement describing Hezbollah a terrorist organization.
Lebanon's relations with Saudi Arabia and other Gulf Cooperation Council member states have since deteriorated .
In addition to warning their citizens against travel to Lebanon, the GCC states and the Arab League foreign ministers last month labeled Hezbollah a "terrorist organization."
The GCC, which includes Saudi Arabia, Kuwait, the United Arab Emirates, Qatar, Oman and Bahrain, has accused Hezbollah of creating chaos and discord in member states. The GCC states have also decided to expel Lebanese citizens suspected of having links to Hezbollah.
In a sign of continuing deterioration in Lebanon's ties with Saudi Arabia, Salam's announced plan to visit Gulf countries to reassure them of Lebanon's commitment to its Arab identity and Arab unanimity has not yet materialized.