Rifi may retract his resignation after Samaha's new sentence of 13 years in jail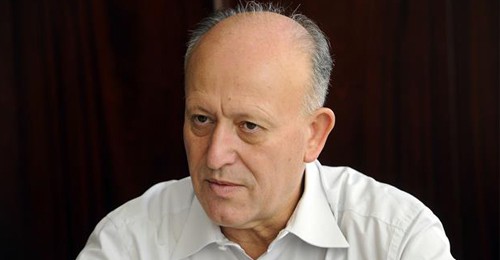 Ashraf Rifi who resigned as justice minister may retract his resignation in light of the revised prison sentence against former Information Minister Michel Samaha, al-Hayat daily reported on Saturday.
He is still signing mail addressed to the Justice Ministry and he will inevitably return to the government because he linked his departure to the initial ruling against Samaha, according to the daily
Samaha was sentenced to 13 years in the al-Rihannieh jail with hard labor over terrorism charges .
Samaha was also stripped of his civil rights which means that he will not be able to take any official government post or vote in elections.
He was charged with the possession of explosives for the purpose of carrying out terrorist attacks.
The verdict cannot be appealed.
The minister had previously served four-and-a-half years in jail as part of a lighter sentence that had shocked the country and which saw his release from prison earlier this year.
In accordance with Lebanese law, a prison year is counted as nine months meaning that Samaha will have to serve six years and nine months after counting the time he has already spent in jail.
Yamaha, 67 a close ally of Syrian President Bashar Assad was arrested in August 2012 and charged with attempting to carry out "terrorist acts" over allegations that he and Syrian security services chief Ali Mamluk transported explosives and planned attacks and assassinations of political and religious figures in Lebanon.
He admitted during his trial that he had transported the explosives from Syria for use in attacks in Lebanon.
Surprisingly, the court agreed in January to release Samaha on a $100,000 bail. He was banned from leaving the country pending a retrial.
Hezbollah's parliamentary bloc chief MP Mohammed Raad defended Samaha's release on bail and slammed as "malicious, temperamental and non-objective" the statements that criticized the release.
But Rifi, lashed out at the judicial and security officials for the decision to release Samaha. His release prompted Rifi to quit the cabinet
This is what Bashar wants

"This is what Bashar wants," Lebanese security sources quoted Samaha as saying in August 2012 of Syrian President Bashar Assad, in a video shot by a Lebanese undercover agent for the Internal Security Forces Information Branch.
He was referring to bombing plan that was meant to be carried out in north Lebanon.
The security sources also said that, in the video, Samaha can be seen and heard saying that ( Syrian Director of the National Security Bureau Maj. Gen. Ali ) Mamlouk, had handed him the bombs in addition to the $170,000 cash that was meant to be distributed to would-be executors of the attacks in Lebanon.