Gemayel calls for a neutral president who can protect Lebanon from regional conflicts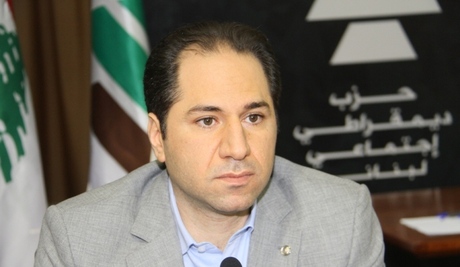 Phalange Party leader MP Sami Gemayel called on Thursday for the election of a "neutral president" who has the ability to "protect the country from the ongoing sectarian conflict in the region."
In an interview with the Russian RT Arabic TV network, Gemayel stressed the need for the election of a president "who can neutralize Lebanon from the conflict and who can gather the Lebanese in a serious dialogue that protects the country."
The president must be "competent and must have a comprehensive vision that can pull the country out" of its crises, Gemayel added.
"The Phalange endorses candidates based on their programs and their vision for Lebanon," the party's chief underlined.
"The party believes that Lebanon's diverse social structure necessitates keeping it away from the ongoing conflict and the president must be neutral and must be able to say 'No' to any attempt to drag the country into it," Gemayel added.
"The two candidates who are proposed today do not enjoy these characteristics," he said, referring to Free Patriotic Movement founder MP Michel Aoun and Marada Movement chief MP Suleiman Franjieh.
Gemayel added that the next president must have the ability to "protect the country from the ongoing sectarian conflict in the region, which might spread to Lebanon at any given moment."
"He must be modernistic and competent and he must enjoy progressive ideas and an economic, social and national vision that can pull Lebanon out of its difficult situation," Phalange's chief added.
Rejecting the claim that "a neutral president is a weak president," Gemayel noted that "the president's strength does not come from his leadership of a party, but rather from his personality and his ability to stand in the face of the challenges."
A president would also be strong through "the support he would receive from popular parties that would give him the needed cover and strength to be able to govern," Gemayel added.