Hezbollah chief threatens to target Israeli nuclear and biological sites in a future war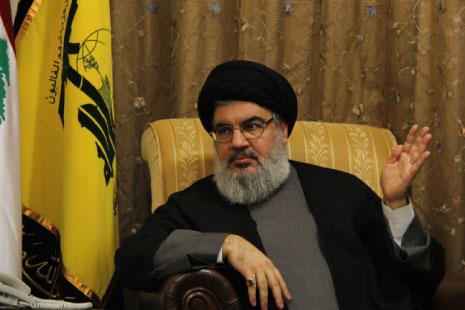 Hezbollah chief Hassan Nasrallah warned against an  Israeli attack and said that this group has the ability to target nuclear and biological sites in Israel in any future confrontation, but at the same time he ruled  out any war in the near future .
In an interview on  al-Mayadeen television  he said:
 "I rule out an Israeli attack or war against Lebanon in the near future, "  but warned that the war will be very costly  for Israel
"Any Israeli war on Lebanon would be an uncalculated adventure," and added  "through its readiness, expertise, military skills and stance, the resistance has made the Israelis realize that any war on Lebanon will be very costly."
"There will be no ceiling, limits or red lines," he said. "We can strike any target we want inside occupied Palestine, " revealing that Hezbollah   possesses "a full list of targets in occupied Palestine, including nuclear reactors and biological research centers."
Commenting on the latest Israeli military exercises, Hezbollah 's chief noted that "Israel's military maneuvers are not new."
"Some think that Hezbollah   is preoccupied in Syria, but we have a team that is dedicated to the Israeli issue and everything the Israelis say," he added.
"If anyone in the enemy's entity is thinking of waging a limited military operation, I tell them that they are mistaken … We will not allow the Israelis to impose a new equation and any step by them will be an uncalculated adventure. We will respond to any attack in a manner that protects our country and the Israelis must expect anything from us," Nasrallah warned.
Asked whether the latest Arab League decision that labeled Hezbollah  as terrorist could encourage Israel to wage an attack against his group , Nasrallah noted that "Israel does not wait for an Arab cover to wage its wars," stressing that "it only weighs its interest and seeks U.S. approval."
Addressing the situation in Syria,  the Hezbollah chief accused Saudi Arabia of blocking any "political solution" to the conflict, adding that he does not expect progress on the political track.
"The political solution must not be imposed on the Syrians by the foreign forces. The Turks might be more realistic than the Saudis regarding the precondition of President (Bashar) Assad's departure," he said.
Nasrallah also declared that all claims that Hezbollah  might withdraw from Syria in the wake of Russia's pullout are baseless.
"Our presence these is linked to a goal. We are contributing to preventing the fall of Syria into the hands of Daesh (Islamic State group), al-Nusra (Front) and the takfiri groups," he said.
"We went there for this goal and as long as this objective needs us, we will be where we should be," Nasrallah stressed.
Asked about former PM  Saad Hariri's return to Lebnaon, Nasrallah noted that he is willing to meet with the former premier "if the Hezbollah -Future Movement dialogue requires such a meeting."
He noted however that "any meeting should lead to political results," voicing skepticism about such an outcome in the current period.
"Our representatives are meeting and discussing all issues. Things are deadlocked regarding the issue of the presidency and the electoral law," Nasrallah explained.
Noting that "there is a problem called real partnership" in the country, Nasrallah emphasized that "the fair and real solution that can reflect the true sizes of all political forces would be an electoral law based on proportional representation."
As for the presidency, Nasrallah accused the Lebanese Forces of trying to stir a dispute between Hezbollah  and the Free Patriotic Movement.
"If we head to parliament, it is known that (FPM founder MP Michel) Aoun will not be elected," Nasrallah noted, dismissing LF calls in this regard.
"Our relation with (Speaker Nabih) Berri is not based on coercion and we are ethically committed to supporting Aoun's nomination," Nasrallah added.
"We have a clear commitment and as long as Aoun says he is a candidate, we will support him. We want a strong, firm president who cannot be bought with money, a president who does not bow to the power of the media or the regional and international forces," he went on to say.
Asked about the nomination of his other ally, Marada Movement chief MP Suleiman Franjieh, Nasrallah stressed that the northern leader is "qualified to be a president."
"We trust him and he is our ally and friend," he added.
"Based on his today's remarks no  presidential election will be held this Wednesday ", Ali Hussein a Lebanese analysts told Ya  Libnan.
Speaker  Berri has reportedly  urged Hezbollah to settle for the election of  Franjieh  since  their candidate  MP Michel Aoun  has no chance   to being elected , al-Akhbar daily reported on Saturday.
"Berri has urged Hezbollah not to waste this opportunity  since it is impossible for the Change and Reform bloc chief Aoun to win the seat," the al-Akhbar  sources were quoted as saying.
The Lebanese parliament failed again  on March 2 and for the 36th time in a row to elect a president to replace Michel Suleiman whose term ended on May 25 , 2014.
As in the past sessions the parliament was unable to reach a quorum because the Iranian-backed Hezbollah militant group and its ally  Aoun's Change and Reform bloc MPs boycotted the session, because they could not guarantee Aoun's election as a president
Speaker  Berri  postponed the election to March 23, 2016.
Lebanese Forces leader Samir Geagea renewed his accusation that Hezbollah  does not want to hold the presidential elections.
"Two months after our endorsement of Change and Reform bloc chief MP Michel Aoun's run for the presidency, the party has not not moved  its little finger to elect him," he noted during an LF dinner banquet in Batroun on Saturday.
"It did not move its little finger even though it had frequently raised its bigger finger to say that it advocates the MP," he remarked.
Geagea, Aoun's longstanding rival, withdrew from the race in favor of the former general , in a bid to end the deadlock over the presidency.