Lebanese Diva Majida El-Roumi to hold a charity concert at Egypt's Pyramids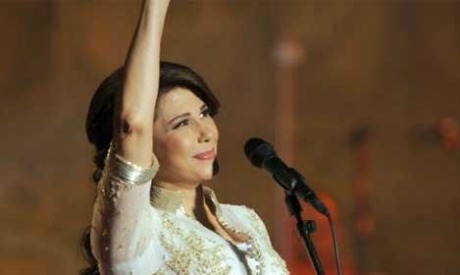 Famed Lebanese singer Majida El-Roumi is scheduled to give a concert 20 May at the Sound and Light Theatre of the Giza Pyramids to benefit victims of burn injuries.
The concert is organised by Ahl Masr Foundation and all ticket revenues will go towards the construction of Ahl Masr Burns Hospital, the first non-profit hospital across the Middle East and North Africa specialised in the treatment of burn injuries.
The hospital is planned on a total area of 12,200 square metres and will be located in New Cairo's First District.
Ahl Masr was founded in 2013 as a non-governmental organisation that "aims to revolutionise the concepts of charity and healthcare development in Egypt," reads the event description on Facebook.
To do that, the organisation "works across the development health sector, with a special emphasis on burn prevention and treatment."
The event organisers thanked El-Roumi who "did not think twice before agreeing to donate all her concert profits to Ahl Masr Burns Hospital."
Born in 1957 in Tyre in Southern Lebanon, Majida El-Roumi began her music career by participating in the televised Lebanese talent show Studio El-Fan in 1974.
Her repertoire comprises 12 albums, including Kalimat (1991), Rasayel (1996), Qitharat El-Samaa (2003), Eetazalt El-Gharam (2006), and Nour Men Nour (2013).
El-Roumi also starred in late Egyptian director's Youssef Chahine's Awdat El-Ibn El-Dal (The Return of the Prodigal Son) in 1976.
A holder of tens of awards, El-Roumi received the National Shield of Honour of the Cedars, the Order of Commodore from the president of the republic in June 2011, and the Golden Key of the city of Alexandria in March 2014.
AHRAM ON LINE