Amal Clooney confronts ME leaders over Human Rights at a UAE forum
Amal  Clooney addressed the issue of human rights in the Middle East.
Mrs Clooney, 38, was a headline speaker at the International Government Communications Forum, which included the ruler of the emirate of Sharjah, Sheikh Sultan bin Mohammed Al Qasimi.
The Lebanese-born British  International Human Rights lawyer  confronted the  Middle East leaders at the summit urging them to stop jailing and shooting protesters to end 'an unprecedented human rights crisis' .
She told the forum  that the Arab countries are facing 'an unprecedented human rights crisis'. She urged that criticism of ruling systems be met with dialogue, not prison terms, and that protests be met with 'crowd control,' not bullets.
She said governments around the world should be vocal, consistent, principled and transparent about human rights.
Mrs Clooney said: 'The first piece of advice I would have from my experience is that governments need to be vocal about human rights.
'My advice to you is not only to be vocal and consistent, but also to be principled in communications about human rights.
'The fourth suggestion I have is to be quick,' she said. 'Governments must be prepared to be transparent and get their message out first.'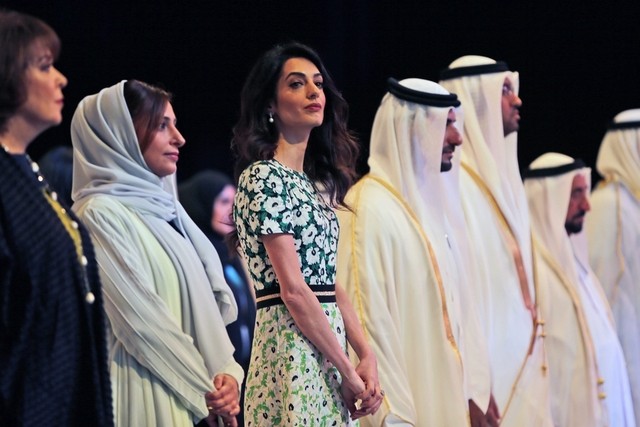 Mrs Clooney , who  takes on high-profile international cases, is married to actor George Clooney.
Last month, the couple met German chancellor Angela Merkel to discuss the crisis in Syria and spoke to refugees in Berlin.
Mrs Clooney was part of a legal team seeking wider recognition of the 1915 mass murder of Armenians as a genocide.
Historians estimate that as many 1.5 million Armenians were murdered by Ottoman Turks at the time of First World War, an event widely viewed by scholars as the first genocide of the 20th century.
Turkey denies the deaths constituted genocide, claimed the toll was inflated and that those killed were victims of civil war and unrest.
The two-day IGCF is an annual forum held in Sharjah that aims to improve communication between governments and stakeholders and to develop those communications for the benefit  of the UAE and the Middle East.
Agencies