Gemayel's bloc won't vote for Aoun or Franjieh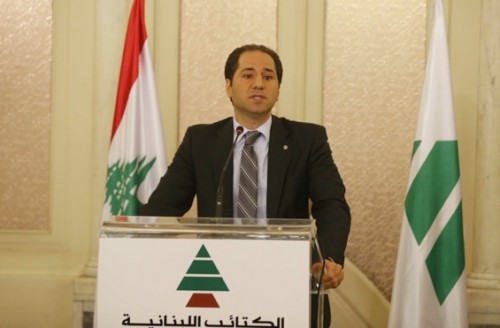 Phalange Party chief MP Sami Gemayel revealed on Wednesday that his party's parliamentary bloc will not vote for either Marada Movement chief MP Suleiman Franjieh nor Free Patriotic Movement founder MP Michel Aoun in the presidential elections.
"What would we do if someone like Aoun becomes president? We do not have the right to send the citizens to the unknown, seeing as we have a problem with his political principles and his vision of Lebanon as part of an axis," said Gemayel during an interview on Future TV.
"Why should we surrender and why should we give the presidency to Hezbollah? Why would we have to hand over the State to March 8 after all the perseverance we showed for years?" Gemayel asked.
"We will not vote for Suleiman Franjieh and we were clear with him and with Aoun. We do not have a personal problem with them but we fear for the country's interest," he added.
Both Aoun and Franjieh are staunch allies of Hezbollah and the Syrian regime of president Bashar al Al Assad
"What would we win if we push the Sunni community to extremism and the country to a confrontation with the (Arab) region?" Gemayel asked, citing the latest Saudi measures against Lebanon that the kingdom attributed to "hostile" stances by Foreign Minister Gebran Bassil ( FPM chief and Aoun's son-in-law) and Hezbollah harsh attitude towards the kingdom.
The Lebanese parliament failed again in early March and for the 36th time in a row to elect a president to replace MichelSuleiman whose term ended on May 25 , 2014.
As in the past sessions the parliament was unable to reach a quorum because the Iranian-backed Hezbollah militant group and its ally MP Michel Aoun's Change and Reform bloc MPs boycotted the session, because they could not guarantee Aoun's election as a president
Speaker Nabih Berri a key ally of Hezbollah postponed the election to March 23, 2016.
Iran is being blamed for the presidential vacuum in Lebanon, by the March 14 coalition