U.N. peace talks mediator: No 'Plan B' for Syria but war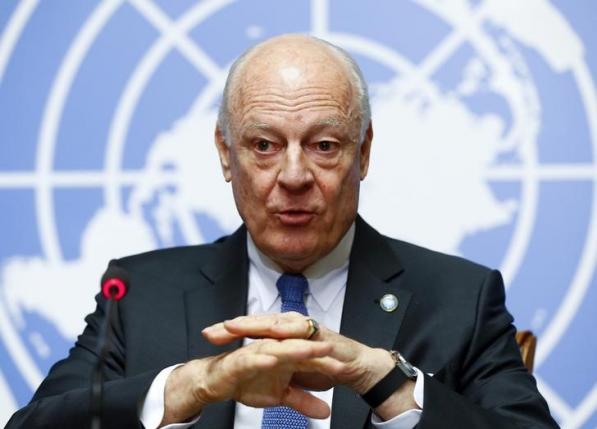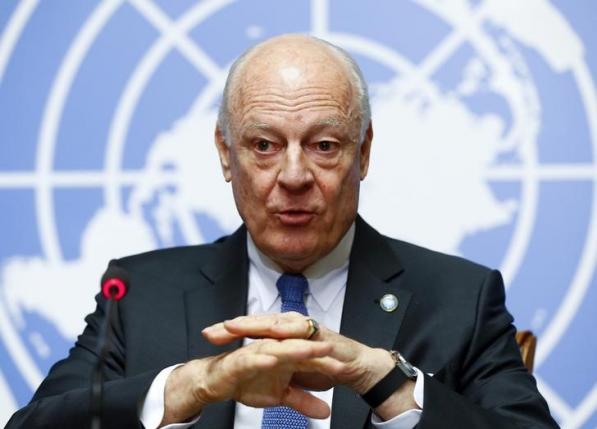 A U.N. mediator said on Monday there was no "Plan B" other than a resumption of conflict in the Syrian war if the first of three rounds of talks which aim to agree a "clear roadmap" for Syria fail to make progress.
Syria faces a moment of truth, Staffan de Mistura said when he opened talks to end a five-year war which has displaced half the population, sent refugees streaming into Europe and turned Syria into a battlefield for foreign forces and jihadis.
The talks are the first in more than two years and come amid a marked reduction in fighting after last month's "cessation of hostilities", sponsored by Washington and Moscow and accepted by President Bashar al-Assad's government and many of his foes.
But the limited truce, which excludes the powerful Islamic State and Nusra Front groups, is fragile. Both sides have accused each other of multiple violations, and they arrived in Geneva with what look like irreconcilable agendas.
The Syrian opposition says the talks must focus on setting up a transitional governing body with full executive power, and that Assad must leave power at the start of the transition. Damascus says Assad's opponents are deluded if they think they will take power at the negotiating table.
The head of the government delegation, Bashar Ja'afari, described his first meeting with de Mistura on Monday as positive and constructive, adding he submitted a document entitled "Basic Elements for a Political Solution".
De Mistura said some ideas had been floated in a meeting he described as a preparatory session, ahead of a further meeting on Wednesday which would focus on core issues. Asked about the gulf between the two teams, he said it was the nature of negotiations that both sides start off with tough positions.
In a sign of how wide that gulf is, de Mistura is meeting the two sides separately – at least initially.
The talks must focus on political transition, which is the "mother of all issues", the U.N. envoy said before his talks with Ja'afari. Separate groups would keep tackling humanitarian issues and the cessation of hostilities.
"As far as I know, the only Plan B available is return to war, and to even worse war than we had so far," he said.
PAST FAILURES
Several ceasefires and peace talks have been attempted since the conflict, which has killed 250,000 people, broke out five years ago this week.
Hundreds of U.N. peacekeepers deployed to Syria in 2012, but pulled out after fighting resumed. Peace talks in Geneva two years ago collapsed after making no progress.
De Mistura said that if he saw no willingness to negotiate in this latest search for a political agreement, he would hand the issue "back to those who have influence, and that is the Russian Federation, the USA … and to the Security Council".
Russia's military intervention in Syria in September helped turn the tide of war in Assad's favor after months of gains in western Syria by rebel fighters, who were aided by foreign military supplies including U.S.-made anti-tank missiles.
The reduction in fighting has allowed aid to be brought to besieged areas, though the opposition says the deliveries to rebel-held territory fall well short of needs.
Clashes have taken place on many fronts. Government forces and allies on Monday fought insurgents including Islamist groups in western Syria, such as Latakia and Homs provinces, the Britain-based Syrian Observatory for Human Rights said.
Observatory director Rami Abdulrahman said there had been a general rise in the daily death toll after an initial drop that occurred at the start of the truce.
In the northern province of Aleppo, Kurdish forces fought with fighters from Islamist factions while rebel forces battled Islamic State militants, the Observatory said.
The emergence of Islamic State in eastern Syria and across the border in Iraq led Washington and its Western and Arab allies to launch an air campaign against the ultra-hardline Islamist group in 2014.
"CLEAR ROADMAP"
The opposition are holding out little hope that Geneva will bring them nearer to their goal of toppling Assad, accusing the government of preparing for more war. They also fear that the international focus on confronting Islamic State has led Washington to soften its opposition to the Syrian president.
Rebels say they are ready to fight on despite their recent defeats. They hope foreign backers – notably Saudi Arabia – will send them more powerful weapons including anti-aircraft missiles if the political process collapses.
The first round of talks are scheduled to run until around March 24, followed by a break of 7-10 days, then a second round of at least two weeks before another recess and a third round.
"By then we believe we should have at least a clear roadmap," de Mistura said. "I'm not saying agreement, but a clear roadmap because that's what Syria is expecting from all of us."
He did not mention whether Kurdish leaders would be involved for the first time, but said that the "proximity" format of indirect talks gave him flexibility to hear as many voices as possible, and all Syrians should be given a chance.
The main Kurdish YPG militia, which controls a swathe of northern Syria and is backed by the United States in combat with Islamic State fighters, has so far been excluded from talks in line with the views of Turkey, which considers it a terrorist group.
"The rule of the game will be inclusiveness," de Mistura said. "In fact, the list of those whom we are going to consult or meet, or will be part of — eventually, I hope — not only of proximity negotiations but in fact direct negotiations is going to be constantly updated."
REUTERS