Ship' seized in Greece was headed for Africa not Lebanon, report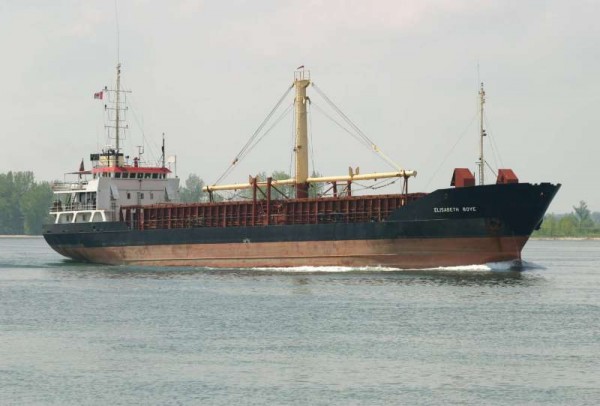 The ship that was seized Sunday by Greek authorities was not carrying weapons or explosives and was not headed for Lebanon, a media report said on Wednesday.
Quoting unnamed sources, Lebanon's Future TV said the ship was headed for Africa and that it did not contain weapons but rather "hunting rifles."
Greek authorities have allowed the ship to continue its sailing, the TV network added.
Hezbollah's Al Manar reported that the vessel was loaded with weapons and that it departed from the Turkish city of Izmir and was heading to Lebanon.
Al-Manar added that the vessel, raising the flag of Togolese Republic off Rodos island, belongs to three Lebanese nationals who reside in north Lebanon, but did not name them.
Voice of Lebanon radio (93.3) identified 2 of the Lebanese nationals as Mohammed Amin and Kamal Kasher and said both hail from the northern city of Tripoli.
"During interrogation, the two men revealed that the ship has been leased to a Turkish firm and that it was only carrying hunting rifles and related ammunition," VOL added, without saying where the two men were interrogated.
Turkish media on the other hand reported that the seized ship was a Lebanon-bound and was carrying arms and explosives that was loaded in Turkey.
"The Togo-flagged boat reportedly full of weapons and explosives was seized by the Greek authorities off Turkey's western coast on February 28," the English-language website of Turkey's leading newspaper Hurriyet reported, quoting the Turkish Doğan News Agency.
"Weapons and explosives were seized in the search of the 76-meter-long dry cargo vessel named 'Kuki Boy' that was stopped off the Greek island of Rhodes, some 102 kilometers (63 miles) southeast of the Turkish resort town of Bodrum," the website added.
"The vessel reportedly sailed from an international port in the Aegean province of İzmir and was heading to Lebanon. The vessel drew the attention of the Greek military after floating on the Mediterranean Sea for a long time," Hurriyet added.
Meanwhile, Beirut-based al-Mayadeen television on Tuesday quoted Turk News TV as saying that the boat was carrying "six containers of which two were filled with arms and ammunition."
"The boat crew – six Syrians, four Indians and a Lebanese – have been arrested by Greek authorities," al-Mayadeen added, citing Turk News.