Jumblatt warns Saudi Arabia that aid suspension will help Hezbollah and hurt Lebanon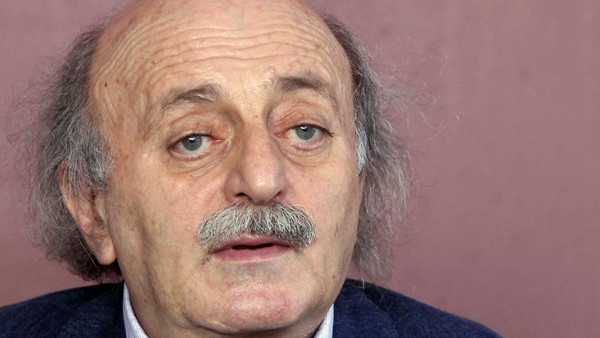 Democratic Gathering Parliamentary bloc leader   MP Walid Jumblatt on Sunday warned Saudi Arabia that its suspension  of military aid to Lebanon would  have the opposite intended effect …will only "weaken the Lebanese state and its institutions " and strengthen Iran's ally in Lebanon, the Hezbollah militant Shiite group.
"Suspending the military aid will weaken the State and institutions   and they (Hezbollah) will benefit from this," Jumblatt warned during an interview with Orient News TV, which supports the Syrian opposition.
"An economic siege on Lebanon would impoverish all Lebanese and will not be useful, unless there are plans to undermine Lebanese stability and the Lebanese entity," Jumblatt added.
His remarks come amid an unprecedented rift in the Beirut- Riyadh ties that has seen the kingdom suspend  around $4 billion in aid to Lebanon's army and security forces and advise its citizens against visiting the country.
Saudi Arabia has linked its move to "hostile Lebanese positions resulting from the stranglehold of Hezbollah on the state" and alleged Hezbollah "terrorist acts against Arab and Muslim nations."
Asked about the Lebanese government's stance on the row with Riyadh and the statement it issued after an emergency session, Jumblatt described the statement as "sufficient."
"I believe that Prime Minister Tammam Salam has done what is necessary and I hope the kingdom, the UAE and other Gulf states will accept the official Lebanese apology, for the sake of Lebanon and the historic ties between Lebanon and the Gulf states," the PSP leader added.
 Jumblatt criticized justice minister Ashraf Rifi's recent resignation  and praised former PM Saad Hariri's stance  .
"Saad Hariri remains the first guarantee for Lebanese moderation," Jumblatt stressed.
Jumblatt also described Hezbollah as "a part of an Iranian system" in Lebanon and the region, when asked whether the party cares about the interests of its supporters and the interests of the Lebanese in general.
Hezbollah was created around 1982 by the al Quds force of the Iranian Revolutionary Guard and continues to be armed and funded by the group.