Hezbollah supporters blocked roads across Lebanon to protest a satirical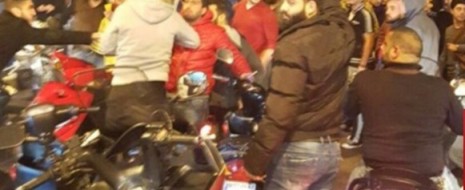 Hezbollah supporters took to the streets of southern Beirut suburbs late Saturday to protest a satirical sendup of their leader which aired on a Saudi-owned satellite television station.
The protesters blocked roadways and chanted slogans against the channel, MBC. Lebanese authorities sealed off the area in an effort to calm tensions.
They originally gathered around 9:30 p.m. in the southern Beirut suburb of Msharrafieh to protest the two-and-a-half-minute skit on MBC's "WiFi" comedy program showing a man impersonating r, Hassan Nasrallah, .
There, they shouted slogans calling for the death of the Saudi royal family and expressing their loyalty to Nasrallah.
The protests quickly spread to other areas around Beirut where some protesters blocked roads with burning tires.
The army said in a statement that it had deployed to several areas around the capital and set up checkpoints to contain the protests.
The National News Agency said protesters also blocked a road at the entrance of Baalbek in northeast Lebanon.
No violence or damage to property was reported, and all roads around the capital were reopened.
The incident comes as tensions soar between Hezbollah and Saudi Arabia over long-simmering disputes.