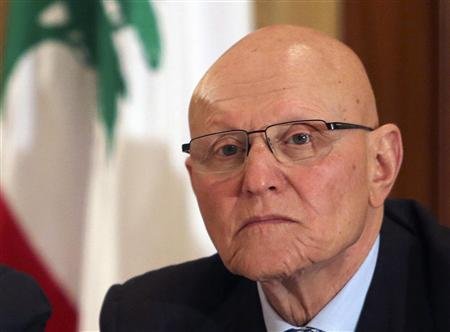 Prime Minister Tammam Salam downplayed a decision by Saudi Arabia to halt deals worth $4 billion aimed at equipping and supporting the Lebanese army but urged Saudi King Salman to review the Saudi decision and "to contribute to the consolidation of the Lebanese identity and its Arab character.
Salam told his visitors that the Saudi decision to suspend the deals was a "passing cloud."
"We should express our solidarity with the kingdom," Salam, whose remarks were published in As Safir daily on Monday, said.
He said he called for an extraordinary cabinet session on Monday to "straighten things up."
"As prime minister and its official spokesman I am in charge along with the cabinet of maintaining ties with the Arab brethren," said Salam.
Commenting on Justice Minister Ashraf Rifi 's resignation, he said it did not come at the appropriate time
Rifi, a fierce opponent of Hezbollah, said Sunday he was resigning over the group's "domination" of the government.
Rifi's decision came two days after Saudi Arabia announced it was suspending the aid to the army over "hostile" positions it said were inspired by the Iranian backed Hezbollah militant group.
Foreign Minister Gebran Bassil, who is the head of the Free Patriotic Movement, a key ally of Hezbollah, has recently declined to support Saudi resolutions against Iran during two meetings of Arab and Muslim foreign ministers.
Salam denied that Bassil consulted him on the closing statement of the meeting of the Organization of Islamic Cooperation.
As for the Arab League meeting, Bassil "consulted me on mentioning Hezbollah in the statement. I told him we can't accept that," said Salam.
"The Arabs expressed understanding" to the stance, he added.
Saudi position confirmed
The Saudi government confirmed on Monday that it has stopped all military aid to Lebanon, saying despite longstanding support for all sects, it was met by opposition from some Lebanese parties.
Saudi Arabia "had long stood next to Lebanon at all difficult stages and had supported it without distinguishing between its sects," said a statement read by Culture Minister Adel al-Toraifi following the cabinet session.
"Despite its stances, Saudi Arabia was confronted by opposing Lebanese stances … amid Hezbollah's" domination of the Lebanese state, al-Toraifi stated.
The statement also slammed the "so-called Hezbollah for launching a political and media campaign against Saudi Arabia and for resorting to terrorism against the Arab and Islamic nation."
"These unjustified stances do not come in harmony with the brotherly ties between the two countries and do not serve their interests," it said.
"The Kingdom has done everything in its power to stop things from reaching this stage and to confirm that it stands by the Lebanese people with all its sects," stated the minister.
Riyadh "is aware that these positions do not represent the Lebanese people and appreciates the stances issued by some Lebanese officials and personalities, including Prime Minister Tammam Salam, in support of the Kingdom," he said.