Video of child bride in Lebanon shines spotlight on 37,000 child marriages every day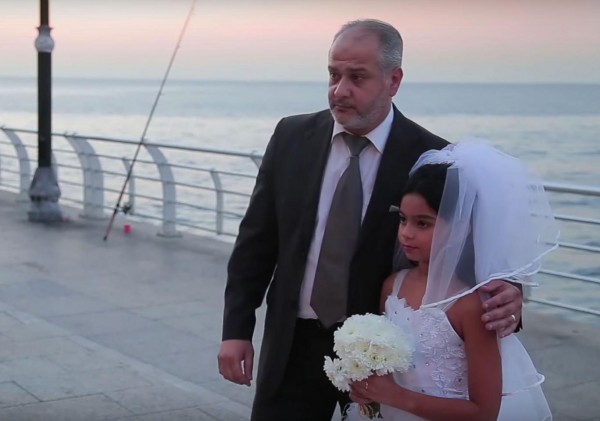 Some reacted with anger and confusion, while others looked on approvingly, even offering their congratulations.
A 12-year-old girl, in a white wedding dress and veil, stands beside a man who looks like her grandfather. They are getting their wedding pictures taken by the sea.
Passers-by question him and the photographer, one accusing the groom of being a "criminal".
The groom replies: "This is none of your business. I got permission from her parents."
The bride and groom are actors, hired by the KAFA – "enough" in Arabic – Violence & Exploitation campaign in Lebanon.
The video has gathered over 1.7 million views and shines a spotlight on the dire plight of thousands of young girls in Lebanon, Syria and around the world who are forced into marriage with much older men every day.
Nearly 15 million girls – some as young as eight or nine – are forced into marriage each year. The UNPF estimates that an additional 1.2 billion girls will be forced into child marriage by 2050.
The Lebanese National Commission for Women's Affairs introduced a bill into Parliament in 2015 that would require that a civil judge, and not just a religious tribunal, to approve all child marriages. The bill has yet to be addressed.
Maya Ammar, KAFA's communications coordinator, said: "The scene

was supposed to seem shocking because the practice itself is shocking."
In certain areas of Lebanon, a parent can give their permission for their daughter to marry when she is nine years old. Without parental permission, girls can marry as young as 14.
Estimates of child marriage in Lebanon do not include the influx of thousands of Syrian refugees whose daughters are increasingly getting married at a young age due to the deteriorating situation in their home country.
Across the world, one in three girls from low to middle income families are married before they turn 18, and one third of those girls are less than 15 years old.
These girls are more likely to be victims of domestic violence and less likely to go to school.
The second and third leading causes of death of child brides is childbirth and suicide.
The UNPF and the KAFA campaign are working to raise awareness and introduce legislation to bring an end to child marriage in more than 100 countries.
Independent Co UK