Hezbollah chief attacks Sunni states and Israel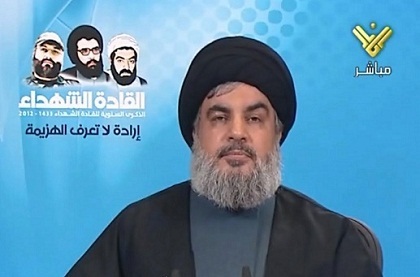 In an unusual development Hezbollah chief Hassan Nasrallah Tuesday offered his condolences to the Hariri family over the 2005 assassination of former Prime Minister Rafik Hariri and expressed hope that his death will one day  be an occasion to unite all Lebanese
"Despite our differences with some of the heirs of [Rafik Hariri], it is our duty to offer our condolences over his death and hope one day it will be an occasion to unite all Lebanese," Nasrallah said in a televised speech making Hezbollah's "Martyr Leaders Day".
Saad Hariri, Rafik's son who heads the Future Movement founded by his father, returned to Lebanon Sunday to give a speech at a ceremony marking the 11th anniversary of the assassination.
Hariri and other members of the March 14 coalition have repeatedly accused Hezbollah and Syria of involvement in the killing, and five members of the party are on trial in absentia at a U.N.-backed court in The Hague over the assassination.
Much of Nasrallah's speech  on the Sunni – Shiite tensions  and  on Israel's threats to Lebanon and the region.
Nasrallah warned Israel against launching a new war in Lebanon, saying the party had the capability to target any site in Israel.
"It will take you days to wipe out the southern suburbs of Beirut, however we are able with only a few rockets to target gas containers in Haifa and kill tens of thousands of settlers… Do not try us," he warned.
The southern suburbs of Beirut, which are mostly comprised of working class neighborhoods but are also home to many Hezbollah figures, were heavily bombarded by Israel during its 2006 summer invasion of Lebanon.
Nasrallah also accused Israel of seeking to exacerbate Sunni-Shiite tensions in the region to present itself as a friend to Sunni leaders to stand up to Iran.
"The Israelis believe that they are before two opportunities. The first is establishing relations and alliances with the "Sunni Arab states" through taking advantage of the confrontation with the Iran and the other is changing the regime in Syria."
"Israel believes that it is facing two threats – the first is Iran and the second is the resistance movements in Palestine and Lebanon." He added
"Israel is keen on saying the conflict in the region is a Sunni-Shiite conflict, but it is not, it is a political conflict, however this sectarian label benefits Israel," Nasrallah said, denouncing Arab states that are cozying up to Israel.
"Allow me to use this kind of (sectarian) language, but how can these Sunni Arab leaders allow themselves to become friends with Israel while it continues to occupy a so-called Sunni land?
"How can they be friends with Israel which has massacred and exiled tens of thousands of Sunnis in the region? An entity that is gradually destroying Al-Aqsa, legally considered a Sunni religious place of worship, although it is for all Muslims…
"These Arab leaders are ignorant, spiteful, agents!" He said
"Israel considers the presence of al-Qaida in Syria as a lesser evil than the presence of Bashar Assad's regime." He said.
He accused Israel of trying to push for partitioning  Syria into 4 states:
"They want to partition Syrian into four states – a Sunni state, an Alawite state, a Druze state and a Kurdish state." He added
"Israel has failed to push Syria into a partitioning phase, because the Syrian army and its allies are fighting in Latakia, northern Aleppo, the southern Daraa, Hasakeh and Deir Ezzor. This means that the national decision in Syria is to reject partitioning. Those who claim that the war in Syria is aimed at creating a state of a certain nature are spreading lies."
He launched an attack against Turkey and Saudi Arabia for planning to send troops to Syria and accused the 2 Sunni countries of obstructing the peace talks  by insisting that Bashar Al Assad should have no role in a future Syria
"Saudi Arabia and Turkey are willing to spark a world war rather than accept any national settlement in Syria."
Nasrallah questioned Saudi intentions over it fighting ISIS.
"There is an enormous propaganda campaign against Syria, the biggest in history, and these aggressors have done everything possible to try and destroy the Syrian army and achieve their ambitions, and despite all of this they have failed," he said.
Nasrallah is not worried about a war with Israel.
" There is no need to fear an Israeli war because after the first and second Lebanon wars, Israeli decided that it would only wage war if a quick victory is guaranteed. When Israel knows that there is a force in Lebanon that can prevent it from achieving a quick victory, it will not engage in such a war."
Nasrallah did not talk at all about the presidential election in Lebanon . There was a lot of speculation that he planned to respond to the challenges posed to him by Hariri in his Feb 14 speech at Biehl. Hariri claimed that Hezbollah is the main party responsible for the presidential vacuum in Lebanon that has lasted 21 months.
Rumors have circulated in Lebanon that Nasrallah is in Tehran to undergo treatment for cancer and is being treated by Russian and North Korean doctors at a Tehran hospital