Jumblatt hails Hariri's 'excellent', democratic' remarks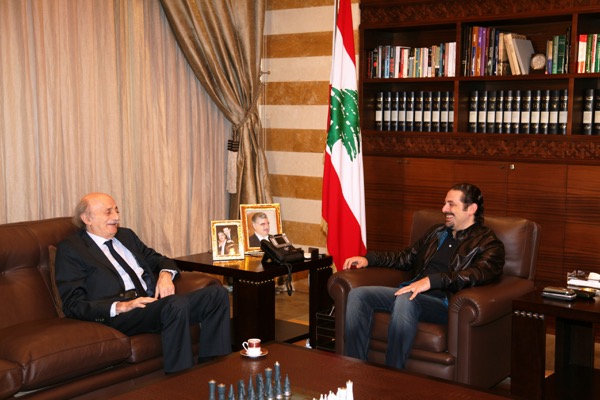 The Democratic Gathering parliamentary bloc leader MP Walid Jumblatt held talks Sunday with Speaker Nabih Berri in Ain al-Tineh, after which he hailed remarks on the presidential issue by former prime minister and Future Movement leader Saad al-Hariri .
"After a long travail and numerous and lengthy (national) dialogue sessions, we eventually reached an agreement over the president's characteristics and as well as positive results," said Jumblatt after the meeting.
"Now, we must elect a president and there are three candidates, so let us go to parliament and let the democratic game take its course, which is a simple issue," he added.
Asked about Hariri's return to Lebanon at dawn Sunday for participation in the annual rally commemorating slain former PM Rafik Hariri, Jumblatt described the former premier's return to the country as "excellent."
"We heard his remarks at the BIEL rally and they were also excellent. They pave the way for the democratic game which we support and we agree with what he said," added Jumblatt.
Jumblatt had arrived in Ain al-Tineh only minutes after Hariri finished delivering his speech.
Jumblatt did not attend the commemoration  at Biehl , but his son Taymoor  was there to represent him.
Hariri  challenged Hezbollah  and its allies  over the presidential  election issue during his   speech at Biehl  by urging the Iranian backed militant group  that has been boycotting the presidential elections  to  go to the parliament and elect a president, unless its  real candidate is vacuum
"Go to parliament and elect a president, unless your real candidate is vacuum."
Hariri said   referring to Hezbollah chief  Hassan Nasrallah's recent declaration that his party is insisting on MP Michel Aoun's  nomination out of loyalty and "political and ethical commitment."
He added
"You've been boycotting every session, preventing quorum and insisting to know the result in advance and yet you are holding us responsible. "
Turning to the issue of Nasrallah's recent verbal attacks against Saudi Arabia against the backdrop of a Saudi-Iranian war of words, Hariri said: "We are Arabs par excellence and will remain Arabs  and we will not allow anyone to drag us into discord with Saudi Arabia and our Arab brothers."
"Lebanon will never become an Iranian province, under any circumstances," Hariri  declared .