Hariri challenges Hezbollah: "Go to parliament unless your real candidate is vacuum"
Former Lebanese Prime Minister and Future Movement leader MP Saad Hariri  challenged Hezbollah  and its allies  over the presidential  election issue during a   speech at Biehl  by urging the Iranian backed militant group  that has been boycotting the presidential elections  to  go to the parliament and elect a president, unless its  real candidate is vacuum
"Go to parliament and elect a president, unless your real candidate is vacuum."
Hariri said   referring to Hezbollah chief  Hassan Nasrallah's recent declaration that his party is insisting on MP Michel Aoun's  nomination out of loyalty and "political and ethical commitment."
He added
"You've been boycotting every session, preventing quorum and insisting to know the result in advance and yet you are holding us responsible. "
In  a speech marking  11th anniversary of the assassination of his father   former Prime Minister Rafik Hariri,  he  stressed Sunday that his movement "does not fear" the election as president of any candidate who abides by the Taef Accord, noting that his latest proposal to nominate MP Suleiman Franjieh has stirred "the stagnant political waters" and led to a "historic reconciliation between the Lebanese Forces and the Free Patriotic Movement."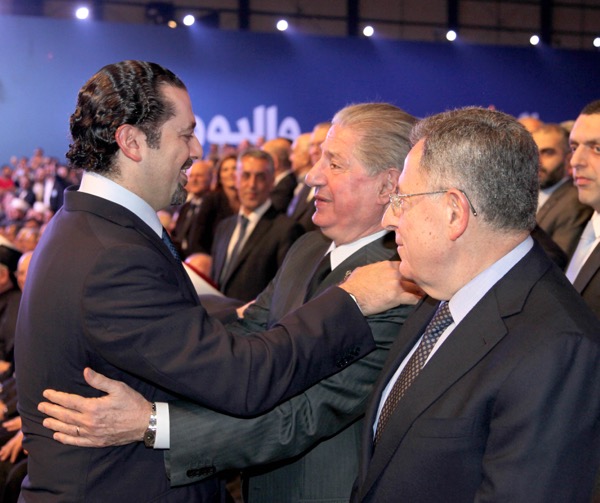 The Biehl  hall was packed with several dignitaries or their representatives  including Lebanese Forces leader Samir Geagea and his wife MP Strida Geagea, former Prime Minister Fouad Siniora, former President and  "Phalange" Party leader Amin Gemayel,  Taymor Jumblatt representing   the "Democratic Gathering" bloc   , Justice Minister Ashraf Rifi, Minister of Education Elias Bou Saab representing  "change and reform," bloc leader  MP Michel Aoun, Interior Minister Nuhad Mashnouk , Tourism Minister Michel Pharaon, Minister of environment Mohamed Mashnouk , and a number of MPs, political ,   religious and social figures .
"The Lebanese presidency deserves more attention and efforts than the Syrian, Iraqi or Yemeni presidencies. The country's interest lies in ending the siege on the presidency, the government and the parliament, not in taking part in besieging Madaya, Aleppo and the Syrian towns," said Hariri in his speech  addressing Hezbollah.
"We had the courage to launch an initiative and to stir the stagnant political waters, not to achieve partisan interests for the Future Movement , but rather to achieve Lebanon's interest and end the presidential vacuum," he said.
"We have the courage to announce that we do not fear the election as president of any partner in the country as long as he abides by the Taef Accord, the law and constitution, coexistence, and putting the national interest and Lebanon's safety ahead of any regional scheme," Hariri declared on Sunday.
Explaining why he had decided to launch the proposal of nominating Franjieh, Hariri noted that the presidential vacuum has led to deterioration "at all levels – socially, politically and economically – and it has affected the political system and coexistence."
"After all parties, both allies and rivals, rejected to endorse a consensual candidate other than the top four Maronite leaders, we started our dialogue with (ex-)minister Franjieh. After all other initiatives reached a dead end, I met with (ex-)minister Franjieh in Paris and reached an understanding with him," he added.
"What's wrong in that and why were you surprised? What is my role in the first place? What is Rafik Hariri's heritage other than preserving the system and civil peace and improving people's lives?" Hariri asked.
He pointed out that his step has "reshuffled the cards" and "forced everyone to consider ending the presidential vacuum."

"We are proud of this step – a step that has pushed our allies, the Lebanese Forces, to reach a historic reconciliation with the Free Patriotic Movement after 28 years of rivalry," he pointed out.
"We were the first to call for and welcome this reconciliation and if only it happened long ago, it would've spared Christians and Lebanon a lot of problems," added Hariri.
"Yes, loyalty to allies is a nice thing, but what is its use if it is at Lebanon's expense and if its aim is prolonging vacuum? Real loyalty must be to Lebanon,"
Turning to the issue of Nasrallah's recent verbal attacks against Saudi Arabia against the backdrop of a Saudi-Iranian war of words, Hariri said: "We are Arabs par excellence and we will not allow anyone to drag us into discord with Saudi Arabia and our Arab brothers."
"Lebanon will never become an Iranian province, under any circumstances," he declared .
As for the strain in relations among the March 14 forces that followed his support for Franjieh's presidential bid, Hariri noted that it was difficult for him and for his movement to mark the February 14 anniversary "amidst an unstable atmosphere" and "discrepancy in points of view."
"It is an occasion to call on March 14 forces, starting with the Future movement, to carry out an internal review," Hariri suggested, noting that the March 14 General Secretariat can play a role in this regard.
The reassessment should address "all aspects of the relationship between the forces of the Cedar Revolution Independence Uprising, in order to protect this exceptional experience in Lebanon's history," he said.
The Lebanese parliament failed again on Feb 8 and for the 35th time in a row to elect a president to replace Michel Suleiman whose term ended on May 25 , 2014.
As in the past sessions the parliament was unable to reach a quorum because the Iranian-backed Hezbollah militant group and its ally MP Michel Aoun's Change and Reform bloc MPs boycotted the session, because they could not guarantee Aoun's election as a president
Speaker Nabih Berri who is a key ally of Hezbollah postponed the election to to March 2, 2016 .
Telecommunications Minister Butros Harb criticized the current state of democracy in Lebanon, calling for an amendment to the constitution that forces lawmakers to attend the polls.
Speaker Berri said on Thursday that a solution to the controversial file of the presidency is no longer in the hands of the Lebanese and that a Saudi-Iranian dialogue could be the secret magical medicine for this hurdle.