MP Rahme trying to pressure Franjieh to withdraw his presidential bid in favor of Aoun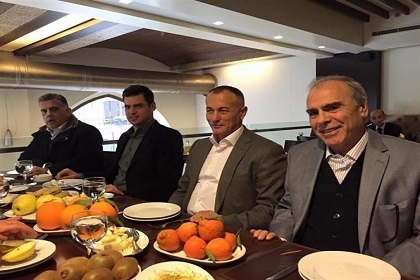 Baalbek MP Emile Rahme   is reportedly trying to pressure Marada Movement chief MP Suleiman Frajieh to pull out of the presidential race in favor of  the Free Patriotic Movement founder  MP Michel Aoun
He reportedly gathered Frajieh's son and Aoun's   son-in-law over lunch on Wednesday in a bid to mend ties between the two presidential candidates, media reports said.
The lunch at downtown Beirut's Karam Restaurant brought together Brig. Gen. Chamel Roukoz , Aoun's son-in-law and Franjeh's son Tony, al-Jadeed TV reported.
The gathering was also attended by General Security chief Maj. Gen. Abbas Ibrahim, former minister Youssef Saade of al-Marada and Rahme's son, al-Jadeed said.
Relations between the two Christian leaders deteriorated  in the past two years due to conflicting viewpoints on several issues and were further strained a couple of months   ago after Franjieh met  former PM Saad Hariri in Paris and emerged as a leading presidential candidate.
Franjieh has refused to to quit the race stressing that he has 70 out of 127 votes .