Harb accuses Aoun, Hezbollah of using quid pro quo to destabilize Lebanon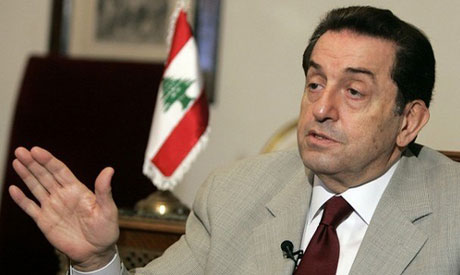 Telecommunications Minister Butros Harb stated on Wednesday that Hezbollah and its ally the Change and Reform bloc head MP Michel Aoun are using quid pro quo   with regard to the presidency and the party's weapons .
"Aoun  is  covering for  the illegal weapons of Hezbollah and  in return Hezbollah is pretending to be backing Aoun presidential bid," said Harb via Twitter.
As Ya Libnan reported  on February 7   Aoun  reneged on his agreement with  Lebanese Forces leader Samir Geagea which he signed in Maarab last month prior to the endorsement of his presidential candidacy by the LF leader .
Speaking to OTV, Aoun  reaffirmed  last  Saturday that  Lebanon needed the help of Hezbollah to defend the border as the national army was not large enough or quipped enough to take on the task.
"Our army does not have the equipment or numbers to defend the border, so Hezbollah has graciously took on this task because our families are in danger."
On the other  hand Hezbollah has reiterated more than once that it continues to support its March 8 ally Aoun for the top state post which has been vacant for over 20 months today.
Marada movement chief MP Suleiman Franjieh, of March 8, has also been nominated recently by  former PM   Saad Hariri.
Harb ridiculed the Maarab agreement between  Aoun  and Geagea.   Harb asked: "What has been left of the memorandum of principles between the FPM and the LF after Aoun's pledge to keep Hezbollah's weapons forever ?"
Wehbe Katicha ,  Geagea's  advisor  said on Sunday that the Lebanese Forces lawmakers planned on attending  the Feb.8  parliament session to elect a president and planned to vote for Aoun .
He added"  the only change we see is Hezbollah's position . Hezbollah either does not want a president or does not want Aoun."
The Lebanese parliament failed again on Feb 8  and for the 35th time in a row to elect a president to replace Michel Suleiman whose term ended on May 25 , 2014.
As in the past sessions the parliament was unable to reach a quorum because the Iranian-backed Hezbollah militant group and its ally MP Michel Aoun's Change and Reform bloc MPs boycotted the session, because they could not guarantee Aoun's election as a president
Speaker Nabih Berri a key ally of Hezbollah postponed the election to to March 2, 2016 .
Harb criticized the current state of democracy in Lebanon, calling for an amendment to the constitution that forces lawmakers to attend the polls.
Observers are of the opinion that Hezbollah has been using Aoun to destabilize the country by  obstruct the presidential election and does not want a Lebanese president for the time  being