MP Harb calls for amending the constitution after parliament failed to elect a president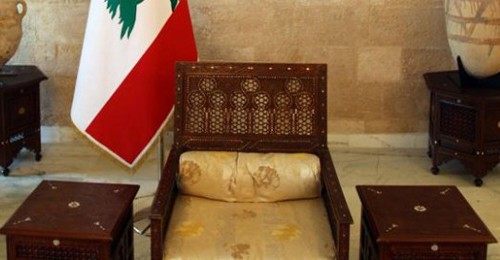 The Lebanese parliament failed again today and for the 35th time in a row to elect a president to replace Michel Suleiman whose term ended on May 25 , 2014.
As in the past sessions the parliament was unable to reach a quorum because the Iranian-backed Hezbollah militant group and its ally MP Michel Aoun's Change and Reform bloc MPs boycotted the session, because they could not guarantee Aoun's election as a president
Speaker Nabih Berri a key ally of Hezbollah postponed the election to to March 2, 2016 .
Telecommunications Minister Butros Harb criticized the current state of democracy in Lebanon, calling for an amendment to the constitution that forces lawmakers to attend the polls.
"We are studying an amendment that would obligate MPs to attend elections otherwise risk losing their seat at parliament," he told reporters.
Another amendment calls for a head of state to remain in his post until a new president is elected in order to avert a prolonged vacuum similar to the one Lebanon is witnessing, he revealed.
Some observers were optimistic that a head of state would have been elected during Monday's session following Lebanese Forces leader Samir Geagea's endorsement of Aoun, his longtime rival as president.
Over the weekend however, Hezbollah, Aoun's main ally, announced that its lawmakers will not attend the electoral session unless an agreement is reached to elect the MP.
Harb condemned this approach, saying sarcastically that parliament should only serve as a place of celebration where it would celebrate any political agreement that is made in advance.
Monday's electoral session saw the attendance of 58 MPS ; 38 from March 14 alliance , 13 from the March 8 alliance, and seven independent .
Head of the Phalange Party MP Sami Gemayel said after the electoral session: "It is time that we adhere to democracy."
"Not everyone can win in politics as it is about winning and losing," he noted.
"Democracy has existed in Lebanon for 80 years and we are now burying it and harming the Lebanese people," he said.
Wehbe Katicha , advisor of Lebanese Forces leader Samir Geagea said on Sunday that the Lebanese Forces lawmakers plan on attending the upcoming parliament session to elect a president.
Katicha stressed that if an election is held , the LF will vote for FPM founder MP Michel Aoun .
In an interview with OTV he said all of the parties were calling on the Christians to agree on a single candidate pointing out that the Lebanese Forces and FPM represent the majority of the Christians.
He added" the only change we see is Hezbollah's position. Hezbollah either does not want a president or does not want Aoun."
Some observers have suggested that Geagea's move came in response to former Lebanese PM and Future Movement leader Saad Hariri's proposal to nominate Marada Movement chief MP Suleiman Franjieh for the presidency although the LF chief has denied this.
"Franjieh's withdrawal would facilitate rapprochement between Future Movement and General Aoun," Lebanese Forces MP George Adwan suggested yesterday .
But Franjieh insists he is still a candidate and has 70 votes out of the 127 ( current parliament members )
Gemayel criticizes Hariri and Geagea
MP Gemayel criticized yesterday Hariri and Geagea, accusing them of bowing to the March 8 camp and granting it the country's presidency without an electoral battle.
"Geagea and Hariri have committed a mistake by effectively giving the presidency to March 8," said Gemayel during an interview on al-Jadeed TV.
"The competition is now limited to the March 8 camp and there is no balance. What's strange is that two March 14 leaders have decided to back two March 8 leaders and (Hezbollah chief) Hassan Nasrallah was right when he said that they have won," he added.
"Hariri and Geagea have surrendered after 10 years of perseverance and the offering of martyrs. If a March 8 president is elected, it would be a disastrous development, unless the two candidates decide to change their stances," Gemayel warned.
Heavy price
Yesterday U.N. Special Coordinator for Lebanon Sigrid Kaag warned against the negative effects of the presidential vacuum, saying it would be too late to save the country.
She said that "Lebanon's stability should not be taken for granted."
"Lebanon should not be left to slide more or else it will be too late to save it," she said. "This is not a game or a joke."
Asked if she thought foreign diplomatic pressure could be exerted to resolve Lebanon's presidential deadlock, she said: "This is not the U.N.'s mission and I don't think diplomatic pressure is the right means."
The international community believes that the Lebanese people should solve the crisis that erupted following the end of the tenure of former President Michel Suleiman in May 2014, she said.
"It is important for Lebanon not to waste time because it could pay a heavy price at several levels," Kaag warned.
"It is unhealthy for a democratic country to get used to the vacuum in the presidency, which is an important post for the Christian sect and for the entire country," she said.