Syrian refugee crisis: Lebanon to ask at London donor conference for $11 bln aid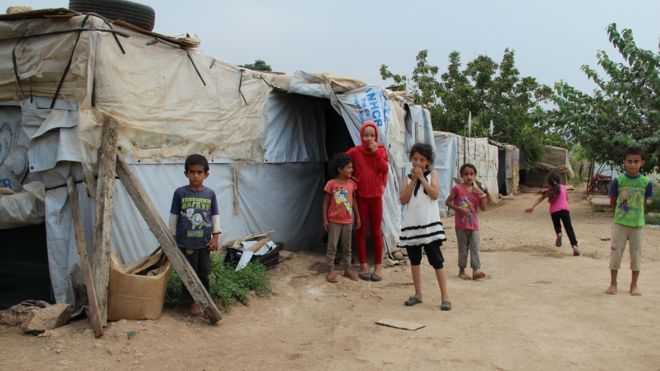 Lebanon will ask the international community for $11 billion in financial aid over a five-year period to help the government weather the increasing burden of around 1.5 million Syrian refugees, An Nahar daily reported.
Prime Minister Tamam Salam will make the request at a meeting later today of leaders and diplomats from 70 countries, who arrived in London to pledge billions to help millions of Syrians displaced by war — and try to slow the chaotic exodus of refugees to Europe.
Thursday's conference aims to agree plans for economic and educational projects to assist 4.6 million Syrians who have sought refuge in Jordan, Lebanon and other neighboring countries.
Salam will demand that the international community disburses the funds in $2.4 billion increments each year to finance programs that will support host communities and Syrian refugees, a source from the Lebanese delegation told Annahar.
In remarks published Wednesday, Foreign Minister Gebran Bassil said the London Conference would test the international community's willingness to help Lebanon.
"This plan is mainly based on developing projects that help Lebanese communities in sectors where Syrians are also allowed to work in, such as agriculture and construction, as they await their return to Syria," Bassil said.
Lebanon's has voiced concerns over the permanent settlement of Syrian refugees in Lebanon.
"We have a constant suspicious attitude towards the way the international community has dealt with the displaced [Syrians]… but we will see if the [London] conference will bring a new approach to this issue," said Bassil.
In December 2015, the Lebanese government sent an official letter to the Secretary General and the Security Council complaining that that United Nations Security Council Resolution 2254 (2015) granted refugees a "voluntary" right to return to Syria.
"The government must be very careful not to allow any language under the pretext of international law, that might allow the prolonged presence of Syrians in Lebanon", Bassil said.
The London Conference is sponsored by the UK, US, Kuwait, Norway and Germany, and is expected to raise somewhere around $9 billion in aid.
Should not be taken for granted
Lebanon has weathered five years of Middle Eastern turmoil remarkably well but its stability should not be taken for granted and it needs long-term financial help to cope with a huge number of Syrian refugees, a senior U.N. official said .
U.N. Special Coordinator for Lebanon Sigrid Kaag, speaking before a Syria donors' conference in London, said on Wednesday that the refugee crisis must be recognized as long-term and the response must move beyond meeting humanitarian needs..
"Our big message is really the need for sustainable, long-term predictable financing, and very much a focus on not only humanitarian but also what we call stabilization support … job creation," Kaag told Reuters.
AN NAHAR/REUTERS