Franjieh claims he has the support of 70 MPs in presidential bid, while Aoun has 40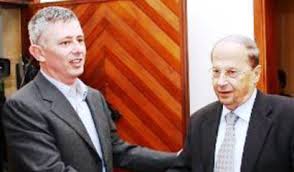 Marada Movement leader Suleiman Franjieh struck a defiant tone Wednesday as Lebanon's leading politicians met for a fresh round of talks to bridge the gap over a number of long-standing issues including the presidential election.
Franjieh said he will not withdraw from the presidential race in favor of his ally Free Patriotic Movement (FPM) founder MP Michel Aoun, arguing that he enjoys a clear majority in Parliament.
"I do not understand how someone who [could] secure 70 votes is expected to withdraw for someone who [could] secure 40 votes," Franjieh told reporters after the 14th session of National Dialogue talks in Ain el-Tineh.
While Future Movement leader Saad Hariri reportedly nominated Franjieh for the presidency late last year, he has yet to officially endorse the Marada Movement leader. Parliament Speaker Nabih Berri and Progressive Socialist Party (PSP) leader Walid Jumblatt had both welcomed Hariri's initiative but have yet to publically support Franjieh's presidential bid over Aoun's. Franjieh's announcement makes it clear that he enjoys the support of the Future Movement, the PSP and Berri's parliamentary blocs in addition to a number of independent MPs.
Franjieh invited Aoun to a showdown in parliament, arguing that he would not run as a candidate in the first round of voting but would join the race if the former general fails to secure enough votes for his election as president in the first session.
According to the constitution, a candidate must obtain two-thirds of the votes in the first round of voting while an absolute majority is sufficient in subsequent rounds.
Franjieh said he was open to consultations with Aoun but added that he will not withdraw his candidacy.
"[Former] General Aoun is welcome in Bnashii [Franjieh's residence], however my position will remain the same," Franjieh said.
Aoun, who enjoys the support of Hezbollah, the country's leading Shiite party, received a major boost for his presidential bid when Lebanese Forces leader Samir Geagea endorsed him earlier this month.
The rapprochement between the two most prominent Christian parties followed Hariri's nomination of Franjieh for the presidency.
Hezbollah, who has long maintained that Aoun is the official March 8 presidential candidate, has yet to take an official stance vis-à-vis Geagea's initiative.
Geagea says Hezbollah has no interest in facilitating Aoun's election, arguing that the party could exert pressure on Franjieh to withdraw from the presidential race or ask Berri's parliamentary bloc to vote in favor of Aoun if it truly supported the former general's presidential bid.
Aoun won't compete against Franjieh
Free Patriotic Movement chief Gebran Bassil hinted Wednesday that the Change and Reform bloc and Hezbollah will not take part in any parliamentary session involving a competition over the presidential post between Aoun and Franjieh.
Bassil's statement came in response Franjieh's claim that t his presidential bid enjoys the support of 70 out of 127 MPs and noted that only "forty" lawmakers would vote for Aoun.
"I didn't know that we have started counting votes but we will not reach a stage during which we compete with Franjieh in parliament," Bassil underlined during an interview with MTV.
Turning to Change and Reform's alliance with Hezbollah, Bassil noted that the party is still committed to its support for Aoun's presidential bid.
"Hezbollah is in the picture of our agreement with the LF and it has a great interest in it," Bassil added.
Hezbollah to speak out about LF-FPM reconciliation
The Iranian backed Hezbollah militant group will reportedly break its silence on the latest rapprochement between the Lebanese Forces and the Free Patriotic Movement on Friday.
A statement said that Hezbollah leader Hassan Nasrallah will speak up on the presidential election during a televised address at 8:30 pm Friday
AnNahar/ agencies