No Lebanese president anytime soon according to Berri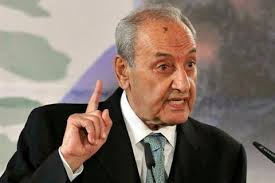 Speaker Nabih Berri has been telling his visitors that the February 8 session set for the election of a president will most likely be adjourned for lack of quorum.
Berri ruled out the election of a new president in the upcoming session after Lebanese Forces chief Samir Geagea's endorsement of Free Patriotic Movement founder MP Michel Aoun candidacy last week.
Geagea's endorsement of Aoun has sparked a war of words between him and Berri.
Berri was asked by his visitors about a recent comment made by Geagea that the ball is now in the court of Hezbollah, which should force its allies to vote for Aoun as president if it were true in its intentions to support him.
"What should Hezbollah do?" the speaker wondered. "Do they want it to put a gun, a rifle or a rocket in the head of Saad Hariri, Walid Jumblatt, Suleiman Franjieh and Nabih Berri to elect a certain candidate?"A possible reference to the leaders who declared their support for Frankie's candidacy
"Things are not done that way," Berri said.
But Geagea responded via twitter, asking "on what grounds Michel Aoun is the candidate of the March 8" alliance.
The LF chief's tweet promoted a response from Berri, who said: "On the same grounds of your nomination by the March 14" alliance.
Several parties, including Berri's Amal Movement, Future Movement that is led by former PM Saad Hariri and MP Walid Jumblatt's Progressive Socialist Party, have announced their support for Marada chief Suleiman Franjieh.
Asked whether Hezbollah was capable of pressuring the Marada chief, who is also a lawmaker, into withdrawing from the presidential race, the speaker asked: "Why would Franjieh accept to pull out" of the race as long as he has the strongest backing?
Berri had reiterated on several occasions that he would call for a parliamentary session to elect a president as soon as the Christians agree on a candidate.
Last week, Geagea backed his long-time rival Aoun in an attempt to end the 20-month deadlock that left Baabda Palace vacant following the end of President Michel Suleiman's six-year term in May 2014.
The LF chief's support for Aoun came more than a month after Hariri struck a deal with Franjieh to back him for the presidency.
The move angered both Aoun and Geagea, who announced their rapprochement last Monday. But the two officials failed to strike a deal with Marada and the Phalange Party, the two other influential Christian parties in the country.
"The Aoun-Geagea agreement is not enough," Berri said. "How about the two other parties?" he asked.
He said that he has advised two FPM officials, Foreign Minister Gebran Bassil and Education Minister Elias Abou Saab, to visit Franjieh and strike a deal with him.
Berri reiterated that the LF-FPM rapprochement is a great leap forward in inter-Christian ties but does not resolve the presidential crisis.