Geagea: Hezbollah will lose Aoun as an ally if it fails to elect him as president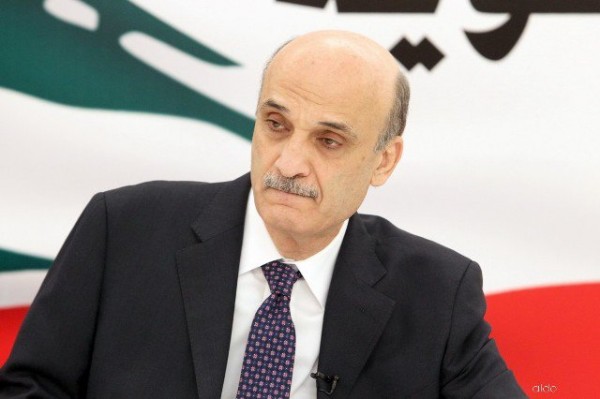 Lebanese Forces leader Samir Geagea said  that Hezbollah is facing a "major test" , reported al-Arabiya television on Friday.
He told the station: "The party will lose its ally, Aoun, if it fails to vote for him as president."  This is in reference  to  his recent endorsement of Change and Reform bloc chief MP Michel Aoun as president
"Hezbollah's failure to endorse Aoun's nomination will have major repercussions," he predicted, while revealing that he does not have direct contacts with the party.
"The ongoing presidential vacuum pushed us to nominate Aoun for president," Geagea explained of the meeting that was held at Maarab on Monday with his long-time rival.
"I sought, behind closed doors, to include all possible guarantees in the Maarab meeting. I believe that the greatest guarantees however were broadcast to the whole world when the agreement was declared," continued Geagea.
Addressing his ties with former PM and Future   Movement leader MP Saad Hariri, he said: "I haven't held talks with him in a long time."
"I spoke to him around the time he nominated Marada Movement chief MP Suleiman Franjieh as president and then once after that," he revealed.
"My ties with Hariri are not at their best due to the developments over the presidency. I will try my best to improve them," Geagea stressed.
Hariri nominated Franjieh as president in late 2015 even though Geagea, his ally in the March 14 camp, was also a nominee.
This led to tensions between the Future   Movement  and LF.
Franjieh declared in wake of the Maarab meeting that he was still running for the presidency.
The Democratic Gathering on Thursday stated that its candidate Henri Helou is also still in the running.
The next electoral session is scheduled for February 8.
Aoun calls Hariri
In a related development  Hariri received a telephone call from Aoun where he reiterated the need to attend the parliamentary session on Feb. 8 to elect a president.
"Hariri received the call from Aoun . He welcomed the latest initiative between the FPM and the Lebanese Forces in Maarab," Hariri's media office said.
"We welcome the reconciliation which we have repeatedly urged the LF and the FPM to take,"  Hariri was quoted as saying.
But the former PM pointed to his own initiative that he lately launched and that saw the nomination of Marada chief MP Suleiman Franjieh for the post.
Hariri calls Franjieh
In another  related development Hariri reassessed with Franjieh  during a phone call the latest developments and efforts aiming to reactivate the work of the state and its institutions.
Phalange  won't back any M8 candidate 
Phalange  Party chief MP Sami Gemayel stressed Friday that his party will not vote for any candidate who belongs to the March 8 camp in the presidential elections, noting that any agreement between the Lebanese Forces and the Free Patriotic Movement must be based on a "clear vision."
"We have been invited to vote for (Change and Reform bloc chief) General (Michel) Aoun and we'll be clear on this. We said from the very first moment that Phalange   is not concerned with the candidate's identity but rather with his project," Gemayel said at a press conference, referring to LF leader Samir Geagea's recent endorsement of Aoun's presidential bid.
"This is not a syndical vote so that we disregard the political platform and we will not elect a candidate carrying March 8's project," Gemayel emphasized.
"We will not elect a March 8 candidate, regardless whether he is a 'genuine' one or 'made in Taiwan'. We want someone carrying a Lebanese project," Phalange's chief added, referring to recent remarks by Geagea.
Geagea noted Wednesday that Franjieh "is a 'genuine' member of March 8 while the General (Aoun) is only allied with them and has the ability to move to the center more than Franjieh."
Gemayel  noted  that "a reconciliation is something and a political agreement is something else."
"The reconciliation is aimed at turning the page on the past and its disputes, ending a certain negative state and starting a positive journey towards the future. A political agreement, however, must be built on a common vision," Gemayel explained.
"The LF and the FPM have decided today to move to a new stage and to forge an alliance aimed at being in power. They moved from reconciliation to joint action through a political alliance and this is something healthy, but we want it to happen according to clear principles," Gemayel stated.
"The political coalition must be based on a clear vision for Lebanon's future which we must carry to power, because if we don't agree on a certain political platform we would be subjecting ourselves to bigger divisions and disappointments," he went on to say.
Gemayel noted that any Christian political agreement must be based on "four main principles" that a lot of young men had "sacrificed their lives for."
"The first constant principle is preserving Lebanon's sovereignty and this is non-debatable. The second one is neutralizing Lebanon, as amid the regional conflict and the sectarian divisions we must refrain from taking part in the conflict or siding with a camp against another," he explained.
"The third principle is improving our political system and constitution and the fourth one is returning to institutions and abiding by the constitution," Gemayel added.
"We must not renounce the state of law and if we want a political alliance it must be based on these four principles, not on short-lived interests," he stressed.
Gemayel also noted that if there is an inclination to move from "general ideas to a strategic alliance and a vision for Lebanon," the Phalange would be "the first party that is willing to be part of such a joint action."