Samaha refers to explosives as 'Medicines' during phone call with Syria's Mamluk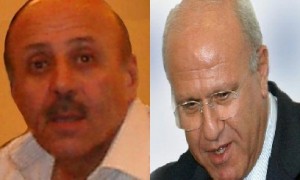 MTV broadcast a leaked phone conversation Thursday in which former minister Michel Samaha referred to the explosives that he eventually smuggled into Lebanon from Syria for a terror plot as "list of medicines."
"I forgot to take the list of medicines from you. Where is it?" Samaha tells Syrian security chief Ali Mamluk during the phone call.
"I have it but the person who was supposed to come yesterday failed to show up," Mamluk answers.
"I will search for him today and I will give it to you," Mamluk adds.
The two men then agree that the list "has become necessary."
Both Samaha and Mamluk had been indicted by Lebanon's judiciary with a conspiracy to smuggle explosives into Lebanon with the aim of staging bombings and assassinating political and religious figures.
The leaked phone call follows several videos and audio recordings that were broadcast by Lebanese TV networks in the wake of Samaha's release on bail from prison last week under a controversial Military Court ruling that outraged the country.

Samaha, who was information minister from 1992 to 1995, was released in exchange for a bail payment of 150 million Lebanese pounds ( $100,000). Under his bail conditions, Samaha, 67, was barred from leaving the country for at least one year, speaking to the press or using social media.
The ex-minister was arrested in August 2012 and charged with attempting to carry out "terrorist acts."
Samaha, an ex-adviser to Syrian President Bashar Assad, admitted during his trial that he had transported the explosives from Syria for use in attacks in Lebanon.