Future Movement: It is now up to the parliament to decide on the presidency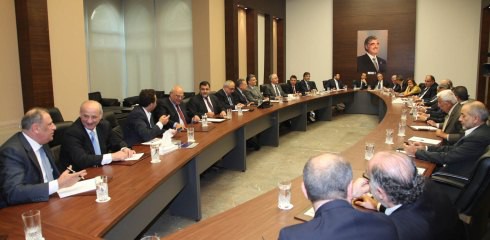 The Future Movement parliamentary bloc expressed its "relief" Tuesday over what it described as "the reconciliation that occurred in Maarab yesterday between the Lebanese Forces and the Free Patriotic Movement,"
The LF chief Samir Geagea endorsed yesterday the presidential candidacy of his rival former FPM leader MP Michel Aoun in a joint press conference at Maarab .
"The bloc is following up on the developments related to ending the vacancy of the presidential post and discussed the LF's declaration of support for General Michel Aoun's candidacy and former minister Suleiman Franjieh's announcement that he will maintain his own presidential nomination," said the Future Movement in a statement issued after its weekly meeting.
"The bloc stresses the importance of holding the elections in order to end the presidential void, emphasizing its commitment to former PM Saad Hariri's directions in this regard," it added.
The Future Movement, however, underlined that "the final say in this regard belongs to parliament, in line with the democratic system and the Constitution."
Lebanon has been without a president since May 2014 when the term of Michel Suleiman ended without the election of successor.
The 35th election session is scheduled for February 8, 2016.
The question on everyone's mind is : "Will Hezbollah and Aoun's MPs show up this time ?"