Al-Jubeir: Iran's threats do not scare us, has a track record of targeting embassies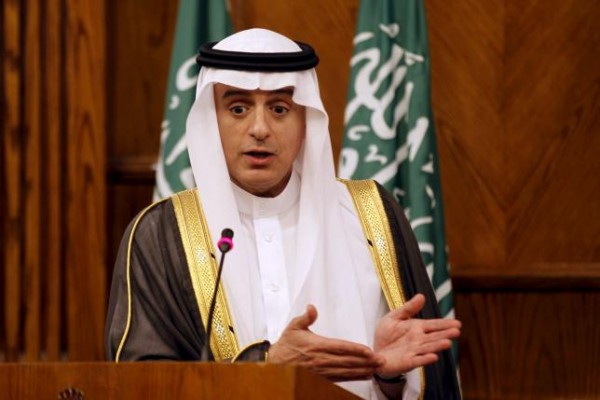 The Saudi Foreign Minister Adel Al-Jubeir told Asharq Al-Awsat that Iran's threats do not scare Riyadh and that Saudi Arabia will act to protect its interests and the interests of its allies in ways that it deems appropriate. His statement came as an answer to a question about Iranian officials' remarks that they have 200,000 armed fighters in the Arab region.
Al-Jubeir spoke to reporters yesterday at the Saudi embassy in London for more than an hour and stressed that Iran is a state sponsor of terrorism and has hosted terrorists including leaders of Al-Qaeda. He then pointed out that Iran has a track record of attacking embassies around the world and diplomats in all continents. The Saudi foreign minister refused to selectively classify terrorist groups and attempts to differentiate between one group and another on a sectarian or political basis. He also confirmed that the groups that were invited to the conference on the Syrian crisis in Riyadh are not classified as terrorist groups. These groups include Ahrar Ash-Sham and Jaysh Al-Islam.
Speaking about his meeting with the US Secretary of State John Kerry, Al-Jubeir said that he discussed three issues with him: Yemen, Syria and Iran. He added that the meeting also touched upon other subjects but that the three issues mentioned were the most important. At a press conference that was held yesterday evening, Al-Jubeir was surprised by Iran's repeated accusations that Saudi Arabia sponsors terrorism, that it targeted the Iranian embassy in Yemen and killed Iranian diplomats. All of these accusations turned out to be incorrect. He added that "no Iranian official is able to say that there is a Saudi official on the world's most wanted list unlike some Iranian officials who are on that list. Neither can it be said that Saudi Arabia has been involved in a political assassination in the world, targeted an embassy or sponsored terrorist groups. Iran, on the other hand, is classified as a state sponsor of terrorism and has institutions that are on the list and officials who are wanted because of their involvement in terrorist acts". He also said that Iran has targeted a number of embassies around the world, held diplomats hostage, blew up the Khobar Towers in Saudi Arabia in 1996 and committed other acts that prove Tehran's involvement in sponsoring terrorism and terrorists".
Asharq Al-Awsat