Several Lebanese politicians outraged over Samaha's release from jail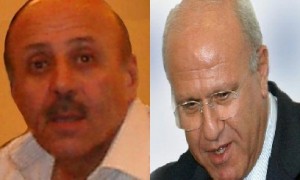 Several Lebanese officials expressed their outrage on Thursday over the Military court's decision to release a former minister who had been convicted on terrorism charges early last year.
Lebanese Forces leader Samir Geagea said the decision to release former Information Minister Michel Samaha on bail on Thursday was "rejected by all accounts."
"How can I accept that a Lebanese (national) conspires with a foreign side to carry out murder and bomb attacks in his country? How can I accept the release of these sorts of people?" Geagea wrote on his Twitter feed.
"What kind of message are the judges and officers sending to the people with this decision? What hope are they leaving for their (the peoples) futures and the sovereignty of their country and the freedom of their sons?" he asked.
Interior Minister Nouhad Mashnouk said the decision was a clear contradiction in itself to the Military Tribunal on all logical, national and legal standards.
"We will, as a party, have a stance regarding those who are working on the basis of abolishing the nation for the benefit of killers… Our stance will be much bigger than that which justifies murder and bombs sent from the Syrian regime," Mashnouk said, in reference to the Future Movement, to which he belongs.
Justice Minister Ashraf Rifi, also a Future Movement official, lashed out at the judicial and security officials for the decision to release Samaha.
"I carried out my national duties when I was Internal Security Forces chief to seize the bombs that the criminal Michel Samaha was transporting," Rifi said, adding that he will hold a meeting with legal advisers to discuss the next steps after the court's decision to release Samaha.

Phalange Party MP Nadim Gemayel described the decision as "a new assassination of the Lebanese (people) and a shame on the Military Tribunal."
The Military Court of Appeals Thursday granted bail to Samaha who was convicted over terrorism charges early last year.
The court reportedly unanimously agreed to the request made by head of the Military Appeals Court Tony Lattouf to release Samaha on LL150 million (around $100,000) bail.
However, Samaha was banned from travel or giving interviews, pending a court verdict on his case, the source added.
The court's decision was final despite rejection of the Prosecutor General's office.
Samaha had insisted at a Dec. 17 retrial that he had fallen victim to entrapment by an undercover police informant, although he did not deny meeting with head of the Syrian National Security Bureau Maj. Gen. Ali Mamlouk and the director of his office Lt. Col. Adnan in Syria.
Samaha was convicted by Lebanon's Military Tribunal of plotting to assassinate political and religious figures in addition to planning terrorist attacks. He was sentenced in May to four and a half years in prison.
Samaha, who has been in custody since 2012, was to be released around Dec. 27, since the judicial year is equal to nine months.
But Samaha's opponents and families of his would-be victims expressed anger over what they viewed as a light sentence, prompting the military court to accept a petition for a retrial.
The former minister, who maintained close ties with Syrian President Bashar Assad and Hezbollah . He was among several pro-Syrian Lebanese officials who were sanctioned in 2007 by the United States for "contributing to political and economic instability in Lebanon.
He "also admitted to providing undercover agent Kfoury with explosives that he smuggled from Syria to target illegal crossings in the northern district of Akkar used by militants and refugees to cross into Lebanon.
This is what Bashar wants
"This is what Bashar wants," Lebanese security sources quoted Samaha as saying of Syrian President Bashar Assad, in a video shot by a Lebanese undercover agent for the Internal Security Forces Information Branch.
The security sources also said that, in the video, Samaha can be seen and heard saying that Syrian Maj. Gen. Ali Mamlouk had handed him the bombs in addition to the $170,000 cash that was meant to be distributed to would-be executors of the attacks in Lebanon.