India, Pakistan to Speed Up Talks After Modi's Surprise Visit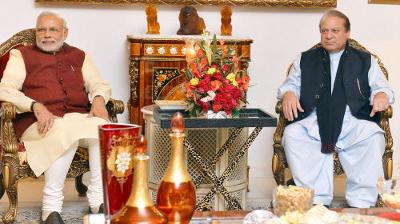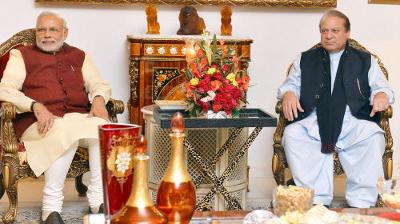 Indian and Pakistani leaders pledged to accelerate peace talks between the nuclear powers after Narendra Modi's surprise stop in Lahore to meet his counterpart Friday, the first visit by an Indian prime minister since 2004.
Modi and Nawaz Sharif decided during the unscheduled meeting to have their foreign secretaries meet soon in Islamabad, Pakistan Foreign Secretary Aizaz Chaudhry said. The leaders greeted each other with a formal hug as Sharif received Modi at the airport, a more cordial meeting than previous ones marked by handshakes, before traveling to the Pakistani prime minister's family residence.
The South Asian nations agreed two weeks ago to restart peace talks that had stalled since Modi took office in May 2014. The leaders have met at international events, most recently in Paris during global climate-change talks, leading to a visit by India's foreign minister to Islamabad this month.
"It was decided that dialogue will be increased," Chaudhry told reporters in Lahore. "People-to-people contact needs to increase" to improve the chances for peace, he said.
India and Pakistan are likely to hold foreign secretary-level talks next month, the Xinhua News Agency reported Saturday, citing unidentified sources. India's Foreign Secretary S. Jaishankar may attend the discussions in Islamabad on Jan. 15, the report said.
Removing Quills
The renewed diplomatic push comes after the massacre in Paris last month, which intensified global efforts to root out terrorism and fight the spread of Islamic State. Tensions between Hindu-majority India and mostly Muslim Pakistan, home to 20 percent of the world's population, risk fueling extremists in South Asia.
"It's a positive development," said Uday Bhaskar, director at the Society for Policy Studies in New Delhi, pointing to the series of meetings in recent months as a sign of traction. "This is like removing one quill at a time."
Chaudhry said officials will start a comprehensive bilateral dialogue. Past talks have included the issue of Kashmir, a disputed region that has been an obstacle to improving ties since Pakistan was created as a home for the subcontinent's Muslims in 1947, as well as counter-terrorism and economic-commercial cooperation.
Modi announced his meeting with Sharif in a Twitter post from Afghanistan, where he had stopped on his return from a trip to Russia. The Indian premier inaugurated the parliament house in Kabul Friday morning.
Minimize Tensions

The two countries have tried to minimize tensions since the 2008 Mumbai terror attacks, which India says were orchestrated in Pakistan. India has accused Pakistan of using terrorism to achieve its foreign-policy goals, while the latter has said normal relations can be restored only when Kashmir's status is resolved.
"These developments have indeed caused everyone anguish and distress," said Hafiz Saeed, the founder of militant outfit Lashkar-e-Taiba who has a $10 million U.S. bounty on his head as the suspected mastermind of the Mumbai attacks. "Narendra Modi's unexpected visit to Pakistan has greatly hurt the sentiments of the loyal and patriotic people of the nation," he said in a statement.
Modi said in Kabul that Afghanistan will benefit when terrorism is contained and doesn't dictate the choices its citizens make. Modi's visit underscores the more overt role India sees in Afghanistan, where the Taliban's advance is complicating a planned withdrawal of U.S. forces.
Relations between Indian and Pakistan have had a couple of false starts after Sharif accepted Modi's invitation to attend his inauguration last year. Pakistan scrapped formal talks with India in August, saying its neighbor's conditions that keep Kashmir off the agenda are a hurdle. Modi and Sharif saw each other in November 2014 at a South Asian summit in Nepal, but managed only a handshake.
Modi and Sharif shook hands at a conference in the Russian city of Ufa in July and held their first talks since the inauguration. They also had a brief meeting in Paris at the start of this month.
The last Indian prime minister to visit Pakistan was Atal Bihari Vajpayee, who traveled to Islamabad in January 2004 for a regional summit, where he met then-President Pervez Musharraf.
BLOOMBERG