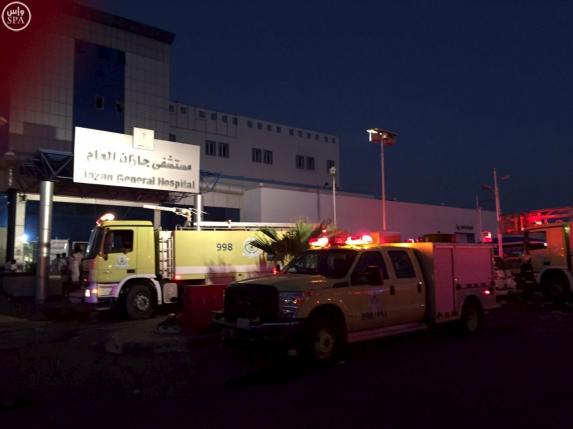 A fire tore through the intensive care unit and the maternity ward of a Saudi hospital before dawn on Thursday, killing 25 people and injuring 123, the Saudi civil defense agency said.
The fire broke out at the general hospital in the southwestern port city of Jazan, the capital of the Jizan region, one of Saudi Arabia's poorest areas.
Government-controlled al-Ekhbariya television interviewed a witness who said the cause of the fire seemed to be electrical, and that it took only three minutes to sweep through the hospital.
"We could hear the women screaming," said the man, who was not named.
Photographs published on Twitter by the civil defense agency showed heavy smoke and an intense blaze which appeared to have severely damaged the interior of the white-walled hospital. Some rescuers used a ladder to gain access through a window.
The 25 dead included one child, the television quoted the director of civil defense in Jizan, Major General Saad bin Al-Ghamdi, as saying.
A correspondent for Saudi-owned al-Arabiya television reported that he had seen several emergency doors locked with chains when he visited the hospital after the disaster. He said the hospital had previously received official warnings over safety violations.
The region's Director of Health Affairs, Ahmed al-Sahli, denied any safety problems, telling al-Arabiya that many people had been able to escape easily from the blaze because the doors were open and safety equipment was in place.
But Eissa Amaish, whose sister was killed in the fire, blamed the hospital's management. "What happened in this hospital was a crime of murder," he told al-Arabiya. "This hospital was not equipped at all to deal with a fire."
Some people on Twitter suggested the fire had been the result of official negligence and that the health minister should resign, although the identities of the Twitter accounts could not be verified.
"Does the health minister have the courage to submit his resignation after the fire at Jazan General Hospital? What disaster lies after this calamity?" tweeted one person, whose account identified him as Mohammed Alsubaie, from Riyadh.
Criticism of Saudi Arabia's ruling family is frowned upon, but the comments online pointed to a series of infrastructure accidents in the kingdom over the past year.
A deadly crush at the haj in Mecca in September killed 769 people, according to Saudi officials. Reuters calculations based on numbers provided by the pilgrims' home countries showed the death toll was at least 2,070.
Two weeks earlier, 110 people died in Mecca's Grand Mosque when a crane working on an expansion project collapsed during a storm, crushing pilgrims below. In August, fire swept through an oil workers' residential compound in the town of Khobar, killing 10 people.
Jazan, near the Yemeni border, is the focus of a $20 billion plan to develop the local economy by building an industrial complex that produces and uses oil products for manufacturing.
The city has also been caught up in Saudi Arabia's military intervention against Houthi rebels in Yemen this year. On Tuesday, Saudi authorities said they had shot down a ballistic missile fired from Yemen that was on a trajectory toward Jazan
REUTERS