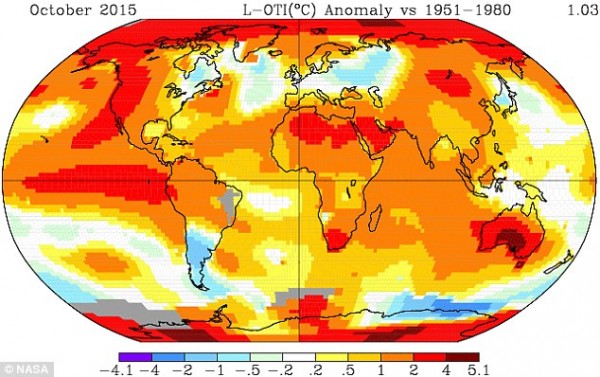 Next year will likely be the warmest on record thanks to El Niño and ongoing climate change, according to a new report.
The research, published by the British Met Office, suggests that the average global temperature in 2016 will be between 0.72°C (1.29°F) and 0.96 °C (1.73°F) higher than the average temperature in the second half of the 20th century. Last year was the hottest year ever recorded and meteorologists say that 2015 will beat that record handily barring an unexpected change.
El Niño, one of the factors making the coming year so warm, is a climate phenomenon that occurs when temperatures in the Pacific Ocean rise along the Equator. El Niño contributes to a number of weather events, including heavy rain in some places and drought elsewhere. It also drives up global temperatures. Climate change more broadly has also contributed to record high temperatures.
The report comes after nearly 200 countries reached an agreement in Paris last weekend to address climate change and reduce greenhouse gas emissions. The agreement is designed to help the world avoid some of the worst effects of climate change, but climatologists expect global temperatures to rise in the coming decades even if the agreement is successful,
TIME
This error message is only visible to WordPress admins
Error: No connected account.
Please go to the Instagram Feed settings page to connect an account.