Franjieh met with Assad in Syria to seek support for his presidential bid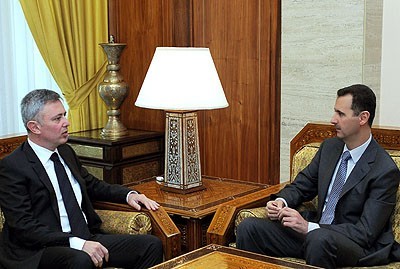 Marada Movement leader Suleiman Franjieh met on Sunday with his ally and personal friend Syrian President Bashar Assad , As Safir newspaper reported Tuesday.
"Frangieh returned from his visit [to Damascus] contended ," As-Safir daily said.
According to media reports the primary aim of the visit was to to seek Assad's support for his possible nomination for presidency , despite the fact that the embattled Syrian president has his hands full and his influence in Lebanon has been greatly reduced
Al-Akhbar newspaper also reported the visit, describing the meeting as "positive."
The newspaper said that Franjieh briefed Assad on Future Movement leader Saad Hariri's presidential initiative.
"Franjieh sensed after returning to Lebanon the trust of the Syrian leadership in him and appreciation for standing by Syria and the resistance during the most difficult times," as Safir reported
However, sources close to Franjieh denied in remarks to Al-Joumhouria newspaper that such a meeting took place, underlining that the "upcoming few days will not witness any unusual movements."
Franjieh is set to appear on the Kalam Ennas talk show on LBC Thursday, which will be aired from his home in the north Lebanon village of Bneshaai.
Frangieh is a longtime friend of Assad, which makes his potential nomination for president a sticking point for some March 14 allies.
The momentum for Frangieh's nomination, which emerged after his meeting with Hariri in Paris last month, has faltered after it faced strong opposition from the three main Christian parties: The Free Patriotic Movement, the Lebanese Forces and the Phalange Party.
Hezbollah, a key ally of the Syrian regime is also reportedly sticking by its candidate MP Michel Aoun