Lebanon PM warns that his cabinet could become a caretaker if paralysis continues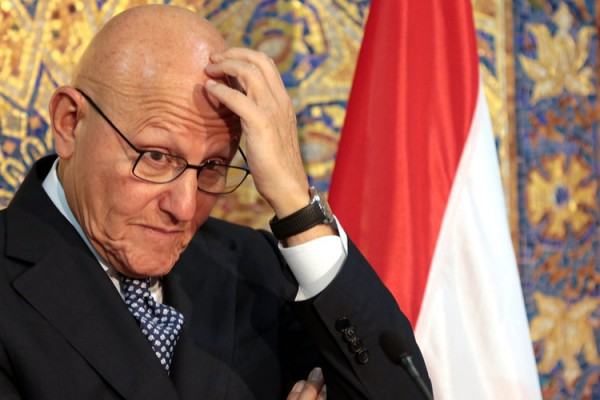 Lebanon Prime Minister Tammam Salam warned that his cabinet  could become a caretaker in light of the current paralysis that the  country is witnessing, An Nahar daily reported on Monday.
"We are heading  there in reality, and I have already said that there is no need for a cabinet that does not convene and produce results," Salam told the daily in an interview highlighting the four-month paralysis of the cabinet.
Commenting on the stalled presidential settlement that calls for  the nomination of Marada leader MP Suleiman Franjieh for the post of president, Salam said: "Nothing so far indicates that the initiative has stalled . The presidency requires consensus between the various powers until the election becomes possible."
Replying to a question if the PM believes that Franjieh is a consensual president, Salam said: "When Hariri, who is of the March 14 camp, suggests Franjieh, who is of the March 8 for the post of president, that makes him consensual."
Former Lebanese PM and Future Movement leader MP Saad Hariri confirmed to   Franjieh his commitment to his nomination as president during the telephone call they held over the weekend,  As Safir newspaper  reported on Monday.
Lebanon is suffering from a political crisis that erupted following the end of President Michel Suleiman's term in May 2014.
The government assumed the responsibilities of the head of state in his absence but sharp differences have prevented it  from taking important decisions.
On the possibility that the PM could call the cabinet to session soon, Salam pointed to the garbage  crisis and said: "I will not call for a session until all the factors of the garbage  file are complete. I am not ready to call for a meeting before this file is permanently closed.
"We cannot address any other matter no matter how important it is before removing the garbage  from the streets," he said, adding that major progress has been made to export the trash but refused to give further details.
Meanwhile ,  Agriculture Minister Akram Shehayyeb vowed on Monday that the the garbage disposal crisis that has been plaguing Lebanon since July will be resolved soon.
He  made the announcement  after holding talks with  Salam: "We discussed the means to fund the export of the trash and the file will be resolved soon."
"We will hold the necessary consultations in the next 48 hours and hope to hold a cabinet session on Wednesday afternoon," Shehayyeb added
Since the closure of the Naameh landfill in July , Lebanon has been suffering from a waste management crisis that left its streets with mountains of garbage
Commenting on the controversial oil decrees file, the Salam said: "I am ready to call for a session if I sensed agreement on the subject. The garbage  and oil are two important issues. "