Lebanese writer Hassan Daoud wins 2015 Naguib Mahfouz Medal for Literature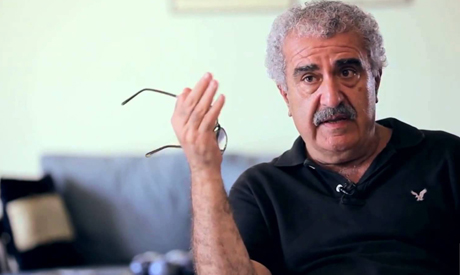 Lebanese novelist Hassan Daoud has won this year's Naguib Mahfouz Medal for Literature for his novel La Tareeq Ila Al-Jannah ("No Road to Paradise"), it was announced at the prize ceremony at the American University in Cairo on Saturday.
The prize is awarded annually on 11 December, Mahfouz's birthday and consists of a silver medal, a cash prize of $1,000, and an English translation and publication of the winning novel by the AUC Press.
Novels are eligible if they are published in Arabic but do not yet have an English version.
In their citation for the award the judging panel described the book as "a marvellous psychological novel that penetrates the enigmas of time and man in a religious society."
"Daoud's evocation of a character enclosed in his existence in a southern Lebanese village is subtle and profound…The work's insights are Proustian in their precision. Each paragraph is like a wafer-thin cross section of reality, so simply presented that the problem and questions that each arise are exposed in all their complexity," the panel said.
Daoud was born in 1950 in a village in southern Lebanon before moving with his family to Beirut. He studied Arabic literature and became a journalist during Lebanon civil war which broke out in 1975, writing for Al-Hayat newspaper. His other novels have been translated into English and French.
This year marks the third year in a row that the prize has been awarded to non-Egyptian writers, breaking what some considered to be a consistent trend of awarding the prize to Egyptians every other year.
The 22 winners of the Naguib Mahfouz Medal for Literature since its inauguration include eight women and 13 men; 11 Egyptians (two posthumously), two Palestinians, two Lebanese, two Syrians, one Algerian, one Moroccan, one Iraqi, and one Sudanese.
The judging panel remained unchanged for the fourth year in a row, consisting of Tahia Abdel-Nasser, assistant professor of English and comparative literature at the AUC; Shereen Abul-Naga, professor of English literature at Cairo University; Mona Tolba, a professor and critic; Humphrey Davies, a translator; and Rasheed El-Enany, professor of Arabic and comparative literature.
The Naguib Mahfouz Medal for Literature is sponsored by AUC Press, which is the publisher of some 50 Naguib Mahfouz English-language editions.
The publisher carries around 200 works of Arabic literature in translation among its titles.
Last year the prize was awarded to Sudanese writer Hammor Zaida and in 2013 it was awarded to Syrian Khaled Khalifa; in 2012, Egyptian writer Ezzat El-Kamhawi won.
In 2011 the prize was exceptionally awarded to "the revolutionary literary creativity of the Egyptian people during the popular uprising that began on 25 January."
Among previous winners of the prize was Egyptian novelist Edwar El-Kharrat, who passed away last week, as well as Yusuf Idris, Ibrahim Abdel Meguid, Latifa Al-Zayyat, and Palestinian poet Mourid Barghouti.
AHRAM ON LINE