Gaddafi was kidnapped in Damascus, Syria not Lebanon, brought to Baalbek by Amal gunmen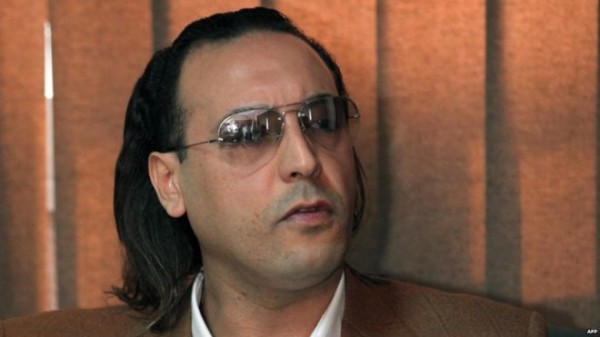 Hannibal Gaddafi, the son of the late Libyan dictator Mummar Gaddafi, was kidnapped in Damascus , Syria and not in Baalbek as has been widely reported according to a report by MTV .
According to the report Gaddafi was in the Al Maliki neighborhood in Syria where he met with a woman who was identified as Fatima H. who introduced him to the kidnappers .
The report revealed that Fatima gave Gaddafi the number of a person to meet him last Sunday in Damascus who would be able to take him to Lebanon to meet with his Lebanese wife and family .
Gaddafi was shocked when he was reportedly met by several armed men in Damascus who brought him to Baalbek Lebanon.
Several days after he was beaten and interrogated by the gunmen who were reportedly members of Speaker Nabih Berri's Amal Movement , the Lebanese Intelligence branch was contacted and they picked him up in Baalbek.
He remains in custody of the Lebanese Intelligence branch
MTV provided a video explaining all what happened to Gaddafi .

On Saturday Local media circulated footage from the kidnappers showing Hannibal talking about the circumstances in which he was kidnapped and the reasons, saying: "I am with people who fear God, a group that has a cause."
Gaddafi said that the kidnappers had demanded information about Moussa al-Sadr, the founder of the Lebanese Resistance Regiments – which later became known as the Amal Movement – a Shiite-dominated Lebanese political party.
Amal blames the 1978 disappearance of Sadr on the Gaddafi regime. Conflicting reports about the Shia leader's fate had emerged in the past and some of it has indicated that the late Libyan dictator had ordered his killing.
Sadr was last seen in Italy boarding a plane bound for the Libyan capital Tripoli.
In the video – which has not been verified yet – Hannibal looks like he had been beaten up but he says that he is well.
"I'm in good health, I'm fine, comfortable and no one should worry about me. I am with people who fear God and have a cause, and they are loyal to their cause. Therefore we should respect them for their loyalty," Gaddafi said.
"We should understand and appreciate these people who have suffered by telling the truth about what happened to Imam Moussa al-Sadr . The world should learn to be loyal like the supporters of Imam al-Sadr, unlike those who defected and ran away and left the imam to face his fate." He added.
"I hope that the people who I am talking about hear me and if they have evidence, would bring out immediately without delay. Because enough of this suffering, enough. Enough injustice, people here want their son ( the imam) ."
Al Jadeed TV reported that Gaddafi was kidnapped by men associated with the Shiite Amal Movement, a close ally of Hezbollah .
Sky News reported that former Hezbollah MP Hassan Yacoub is behind the abduction of Gadhafi
But Yacoub denied any role in Gaddafi's kidnapping .
"I have nothing to do with the kidnapping of Hannibal Gaddafi in connection with Moussa al-Sadr's disappearance with his companions", he told LBCI
The Gaddafi family has long been unwelcome in Lebanon, especially among members of the Shiite Muslim community, because of Imam Sadr's disappearance in Libya on August 31, 1978 at the age of 51
.
Hannibal is married to Lebanese model Aline Skaf with whom he is not on good terms, according to the MTV report. The Skaff family refused to meet with MTV and said Aline is in Algeria. Similarly the Amal Movement refused to comment on the kidnapping by its members