Saudi Arabian FM says no deal reached with Iran on Lebanon deadlock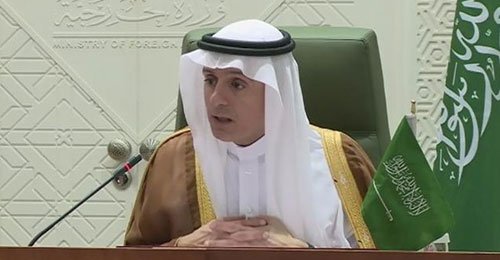 Saudi Arabian Foreign Minister Adel al-Jubeir denied that a regional deal had been reached over ending the presidential deadlock in Lebanon, al-Joumhouria newspaper reported on Friday.
This is  contrary to what has been reported in the Lebanese  media.
Reports circulated in Lebanon  that Jubeir and his Iranian counterpart Mohammed Javad Zarif had made the agreement during a three-hour meeting held in Vienna.
Jubeir clarified to al-Joumhouria that that the meeting lasted "only a few minutes."
"How could we have reached a deal in such a limited amount of time?" he asked adding " there will be  no deal with Iran as along as it interferes in the  internal affairs of the Arab countries and supports terrorism"
The two officials had met on the sidelines of Vienna talks that were addressing the Syrian conflict.
For over 18 months, Christian parties have failed to reach a compromise over a presidential candidate to succeed former President Michel Suleiman who left office in May 2014.
A political settlement that calls for nominating Marada Movement leader MP Suleiman Franjieh  for president was reportedly proposed by former Prime Minister Saad Hariri and endorsed by both Speaker  Nabih Berri and Progressive Socialist Party leader Walid Jumblatt.
Berri received on Thursday an official invitation to travel to Saudi Arabia during talks at his Ain el-Tineh residence with Saudi Ambassador Ali Awadh Asiri.
But al-Joumhouria newspaper reported on Fridaythat Berri   is unlikely to head to the kingdom "any time soon".
"At the moment, the speaker does not have any trips on his agenda, except two to Iran and one to Iraq," the daily added.
Hariri's Christian allies within the March 14 alliance have voiced reservations over Franjieh's nomination, casting further doubts over the likelihood of his election .