Hezbollah MP denies kidnapping Gaddafi's son Hannibal in Lebanon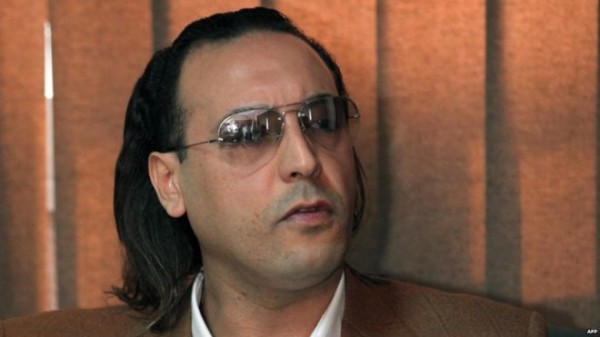 Hannibal Gadhafi, the 40-year-old son of the late Libyan leader Moammar Gadhafi, appeared in a video on Friday in which he announced that he has been kidnapped in Lebanon.
Both MTV and al-Jadeed television, which aired the video, said Gadhafi was abducted in Lebanon at the hands of an "armed group."
In the video, Gadhafi said his captors are "loyal to the cause of Imam Moussa al-Sadr," the founder of Lebanon's AMAL Movement who disappeared while on a trip to Libya in 1978 along with 2 companions.
A security source confirmed to AFP that Hannibal, "who was in Lebanon, was kidnapped Friday by an armed group."
But state-run National News Agency said Gadhafi was abducted Thursday in the Bekaa region and that his captors were demanding "information about Imam Moussa al-Sadr and his two companions."
He said anyone who has information about al-Sadr should come forward.
Gadhafi appeared to have been beaten up and had black eyes but said in the video he is "in good health, happy and relaxed."
Later on Friday, media reports said Hannibal was handed over to Lebanese security agencies.
MTV said he was turned over to security forces in one of the neighborhoods of the Bekaa city of Baalbek.

But An Nahar newspaper said security agents were "transferring Gadhafi in a car to Beirut after his captors left him on the Baalbek-Homs international highway in the al-Jamaliyeh area."
Hannibal is married to Lebanese lingerie model Aline Skaff.
Skaff had first met Hannibal in the Egyptian resort town of Sharm el-Skeikh in 2000, her brother has said in an interview with An Nahar newspaper.
"They later met in France and got married in Copenhagen in 2003."
The couple has a son and a daughter.
Photographs obtained by Agence France-Presse in Libya had revealed how Hannibal and his wife were living a high-flying party lifestyle during his father's iron-fisted rule.
In the dozens of photographs, found on a laptop belonging to Gadhafi's son and made available by former Libyan rebels to AFP, Hannibal and Aline are shown partying in European capitals, on a private jet and on a yacht off the Egyptian coast.
The undated photographs show the couple on luxurious trips to Paris, Rome and Sharm el-Sheikh. They are shown flying on a private jet, lounging in bathing suits on a luxury yacht and shopping in expensive boutiques.
The lavish lifestyles of Gadhafi's family and entourage helped fuel the anger in Libya that sparked the protests that led eventually to the former strongman's ouster.
Hannibal was among a group of family members — including Gadhafi's wife Safiya, son Mohammed and daughter Aisha — who escaped to neighboring Algeria after the fall of the Libyan capital Tripoli.
Hannibal was given sanctuary in Oman in 2012 along with his mother and sister.
His father Muammar was overthrown by rebels in a 2011 uprising.
Hezbollah's role
Sky News reported that former Hezbollah MP Hassan Yacoub is behind the abduction of Gadhafi
But Yacoub denied any role in Gaddafi's kidnapping .
"I have nothing to do with the kidnapping of Hannibal Gaddafi in connection with Moussa al-Sadr and companions", he told LBCI
BBC/AFP