Franjieh's possible nomination divides the Christians and splits the rival camps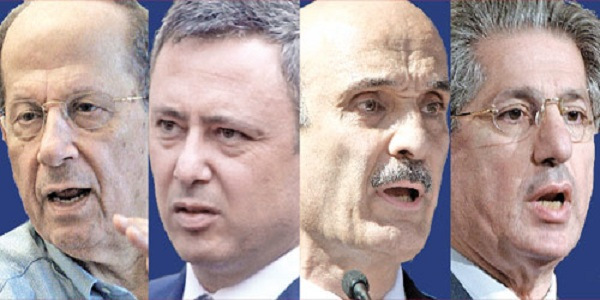 Both MP Michel Aoun and Samir Geagea feel betrayed by the sudden focus on Marada chief Suleiman Franjieh as a potential presidential consensus candidate.
Geagea who was quoted in al-Akhbar newspaper on Thursday as stating that he would not approve Franjieh's nomination "even if that leaves him alone without any allies".
Aoun a key member of the Hezbollah-led March 8 alliance is the leader of the Change and Reform parliamentary bloc and Geagea , a key member of the Cedar Revolution's March 14 alliance is the leader of the Lebanese Forces
The Christian phalange Party – the second major Christian party in the March 14 coalition alongside the Lebanese Forces – whose leader Amine Gemayel has previously been suggested as a potential presidential candidate, will also have serious reservations.
"Franjieh's election – without the LF or FPM green light – would probably blow up both March 8 and March 14 blocs,"according to analysts
Presidential elections are the most important event for Lebanon's Christian parties and the failure of any of Hezbollah and the Future Movement's allies to stand with them could result in ending the alliances, according to the analysts
In Lebanon's confessional power-sharing system the position of president is constitutionally prescribed to a Maronite Christian.
The March 14 block nominated Samir Geagea for the presidency , while Hezbollah nominated Aoun as the March 8 block's candidate .
Neither Aoun nor Geagea – both former civil war-era warlords and polarising figures – were likely to attain the requisite votes in parliament to gain office. Their nominations constituted a political face-off between the March 8 and March 14 blocks aimed at delaying the presidential election until a regional consensus on a nominee was agreed.
For the 32nd time in a row, and despite renewed optimism, Lebanese politicians last week failed to elect a president.
What brought change recently was the suicide bomb attacks by the Islamic State group on 12 November that rocked Beirut. Both Hezbollah chief Hassan Nasrallah and Future Movement leader Saad Hariri emphasised the importance of national dialogue and called for an end to the presidential vacuum.
After the bombing, Lebanon saw a flurry of political activity with Hariri meeting French President Francois Hollande in Paris and the Parliamentary Speaker Nabih Berri holding national dialogue talks at his house. Then last week, Lebanese media suddenly reported that Hariri was preparing to back the presidential bid of Suleiman Franjieh.
Franjieh appears like an odd choice for Hariri. Franjieh is a key member of the March 8 alliance , a former interior minister with family ties to Syrian President Bashar al-Assad and his father Hafez dating back to the 1950s.
Hariri , who has has been highly critical of Assad's conduct during Syria's civil war views the Syrian government as responsible for the assassination of his father, Rafik, in central Beirut in 2005. The killing sent shockwaves through Lebanon and eventually led to the end of three decades of Syrian occupation.
Lebanese media reports claim that Franjieh's nomination had the backing of regional and international actors including Saudi Arabia, Iran, the United States and France, who have long been at odds about who should rule Lebanon.
"The countries of the region are tired and want to develop an exit strategy [from Syria and Yemen]," said Hilal Khashan, a political science professor at the American University in Beirut. "Agreeing on a Lebanese president is far less complex than the thorny issues in Syria and Yemen and reaching an agreement sets the stage for them towards ending these conflicts."
But the optimum about Franjieh's nomination was short lived. Analysts are now warning that even if Franjieh's nomination has gained international approval, it would face grave domestic hurdles in securing support from within Hezbollah and the Future Movement's respective political allies.
Divisions both between and within the March 8 and March 14 blocs have increasingly emerged as a result of Syria's civil war and Hezbollah's military intervention in support of Assad.
"What united March 14 was its stance against Syria. If Hariri went with Franjieh then this would constitute a betrayal of this principle," Sami Nader, an economics and politics professor at Beirut's St Joseph University was quoted as saying .
"We are witnessing a deconstruction of a system that has divided Lebanese politics in two blocs. I think the Franjieh proposition will be dropped but regardless, the March 14 and 8 blocs are losing their cohesion." Nader added.
Speaking last week Ashraf Rifi, the justice minister and a key Future Movement member from the majority Sunni city of Tripoli,was quoted as saying that "any person with links to [Bashar] al-Assad is not a good model to take over the presidency".
Hariri was expected to return to Lebanon to follow up on the presidential developments but the step could be delayed, his al-Mustaqbal daily reported on Sunday.
Hariri was expected to make a return to Lebanon, either on Tuesday or Wednesday, to follow up on the political settlement that could see Franjieh officially nominated for the top state post, the daily added.
However, the stances of Christian parties rejecting the nomination of Franjieh have pushed Hariri to delay the visit, said the daily.
Ad Diyar daily reported on Sunday that Geagea may be forced to endorse Aoun's nomination for the top state post if the nomination of Franjieh continues.
"If there are chances for Franjieh, Geagea does not intend to accept that nomination and he will therefore be compelled to support the nomination of (his other rival) Aoun," said the daily.
Moreover, reports have also said that Geagea received a telephone call from Hariri which he refused to answer.
Lebanese Forces bloc MP Antoine Zahra said on Sunday that the LF would rather vote for Change and Reform bloc chief MP Michel Aoun and not for Marada Movement leader MP Suleiman Franjieh if it was obliged to choose between the two in the presidential race.
"When they were telling us, 'let Christians agree over the presidential issue,' we were responding that it is a national and not a Christian juncture, but we were not suggesting that it is an Islamic affair and that the Christian parties should only be informed of it," Zahra said in an interview with Aoun's OTV station , in a possible response to the fact that Hariri who is a Muslim Sunni decided on nominating Franjieh .
"Something is in the making and former premier Saad Hariri has not consulted with us or with anyone else in this regard," Zahra added.
Zahra was referring to a Paris meeting between Franjieh and Hariri that was behind launching the current momentum in the country regarding the presidential elections. The talks sparked intense speculation about a possible settlement that might open the doors of the Baabda Palace for Franjieh.
Hariri has also met in Paris with Progressive Socialist Party leader MP Walid Jumblatt and phalange Party chief MP Sami Gemayel.
Meanwhile Maronite Patriarch Beshara al-Rai has been urging the political factions to come together and to "seriously" take into consideration the new initiative aiming at ending the presidential vacuum.
"We reiterate the call on all political blocs to converge and study seriously the initiative, and to hold talks in order to elect a president," said al-Rai during the Sunday mass.
"The country can no more tolerate the obstruction in the work of constitutional institutions. The state is facing the threat of collapse at the economic, monetary, social and security levels," he added.
"Today, after a year and seven months, the political and parliamentary blocs have failed so far to carry out their national duty and elect a president with an internal decision. Today a serious initiative from abroad is at hand," he stressed.
Secretary General of the Future Movement Ahmed al-Hariri warned on Saturday of the serious repercussions of the failure to adopt the settlement that is being devised to resolve the political deadlock and presidential vacuum in Lebanon.
He warned: "The failure of the settlement may lead to the election of a new president with blood."
"The prolongation of the crisis for several more months will result in the election of a president in blood, rather than in a calm atmosphere," Hariri warned.
"Do we want another civil war?" he asked.
"The initiative launched by Future Movement chief MP Saad Hariri is aimed at saving Lebanon from collapse," he stressed.
Aoun is expected to hold talks soon with Hezbollah chief Hassan Nasrallah to tackle the latest developments related to the presidential elections,according to a report by An Nahar on Saturday, but a date for the meeting has not been scheduled yet, the daily noted.
Media reports claim that Hezbollah is committed to Aoun's nomination as president "as long as his candidacy still stands," a stance that was echoed by Franjieh during a visit last Wednesday to Jumblatt .
Regardless what happens next the damage to the March 14 and March 8 alliance has already taken place … both parties have been bruised.