Terror suspect kills himself, mother , niece , injures 7 soldiers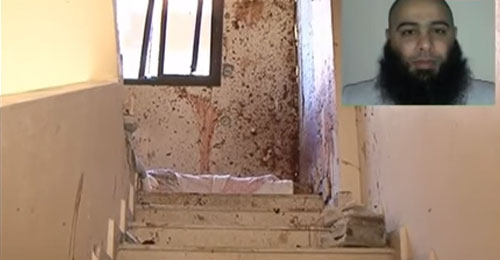 A wanted terror suspect blew himself on Saturday during an army raid in the northern region of Deir Ammar, announced the military in a statement.
According to the statement Mohammed Mustafa Hamza first tossed two hand grenades at the troops, one of which exploded, wounding seven soldiers.
He then detonated an explosives belt, killing himself and two of his immediate relatives.
The National News Agency (NNA) reported that Hamza's mother, Hasna Hamza, and niece, Israa Mohammed al-Sayyed, were killed in the blast.
A number of other civilians at the scene were wounded, according to the statement
NNA said the suspect's sister Safa Hamza was among the wounded.
Voice of Lebanon radio (93.3) identified some of the injured soldiers as Hassan Safa, Fadi Kanj, Khodr Deeb, Wassim Khalifeh, and Hassan Tleijeh.
A number of Lebanese and Syrian nationals were arrested in connection to Hamza, added the army.
Hamza, a fugitive, is wanted for shooting at two army patrols in the Mankoubin neighborhood in the northern city of Tripoli in 2014, the military statement added.
He also joined an armed group in opening fire at a military surveillance post on September 24, 2014.
The incident left several soldiers dead and one civilian injured.
According to media reports Hamza was linked to the armed group of Osama Mansour, who was shot dead by security forces in Tripoli last April.
Mansour and extremist Shadi al-Mawlawi had led armed groups that engaged in deadly gunbattles with the army in Tripoli and its surrounding areas in October.