Saudi envoy backs deal to make Assad ally Lebanon's president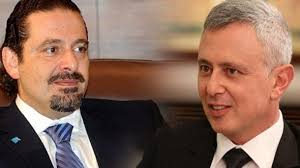 Saudi Arabia has lent its backing to a power-sharing plan that would make a family friend of Syria's Bashar al-Assad president of Lebanon, saying it hoped it would happen within weeks.
The proposal tabled by Sunni politician Saad al-Hariri would see him return to Lebanon as prime minister, and make Maronite Christian politician Suleiman Franjieh president. Hariri is backed by Saudi Arabia.
The plan could revive government institutions paralysed by political rivalries that have been exacerbated by the war in neighbouring Syria. Lebanon has been without a president for 18 months.
"God willing we will see … this vacuum filled thanks to good efforts in Lebanon" around the end of this year, said Ali Awad Asiri, the Saudi ambassador to Lebanon.
"We bless this initiative, and we are keen to see this presidential vacuum filled," he said. He was speaking in a televised news conference after meeting officials of one of Lebanon's main Christian parties, the Kataeb.
The comments follow similar encouragement from Saudi's arch-rival Iran. Visiting Beirut this week, Ali Akbar Velayati, a top adviser to Iran's supreme leader, said he hoped to see the election of a president "in the immediate future".
Shi'ite-led Iran and Sunni-led Saudi Arabia are on opposite sides of conflicts across the region, including Syria and Yemen. But they have shown rare cooperation in Lebanon, where both wield decisive influence.
Saudi Arabia backs the Hariri-led March 14 coalition which was forged a decade ago out of opposition to Syria's influence in Lebanon, while Iran backs the powerful Shi'ite group Hezbollah, which dominates the rival March 8 alliance.
But a deal could yet be undone by local rivalries.
The toughest challenge is winning over other Maronite politicians who are seeking the presidency, notably Michel Aoun, an ally of Hezbollah, and Samir Geagea, still officially March 14's candidate for president.
Speaking in France after a meeting with President Francois Hollande, Hariri said there was "great hope" of ending the paralysis that arose from the failure of rival politicians to agree on who should fill the presidency.
Asked whether the Franjieh proposal was still valid, Hariri said: "There are discussions under way and the climate is positive, God willing, and the coming days will show Lebanon to be in very good shape."
Hariri has not publicly announced his initiative, but it has been widely discussed by politicians in Lebanon.
Franjieh's grandfather, the late President Suleiman Franjieh, used to take him on trips to Damascus to visit his friend, the late President Hafez al-Assad. Franjieh used to hunt with Bashar al-Assad's older brother, who died in a 1994 car crash.
He was orphaned in 1978 when a Christian militia attacked his family home in northern Lebanon, killing his father, mother and sister.
Franjieh said late on Wednesday his candidacy was not yet official but he was waiting for Hariri to formally endorse it.
"We have an historical opportunity. Whoever has another (plan) for Lebanon, they should present it, but if we miss this chance today, I fear we will go into a worse phase than we're in," Lebanon's National News Agency quoted him as saying.
Hariri left the country in 2011 after the March 8 alliance toppled the national unity government he was leading at the time. He has made only two short trips to Lebanon since then.
Lebanon's rival camps are all represented in a unity government led by Prime Minister Tammam Salam. But political friction means the cabinet is barely able to take decisions.
The Lebanese president is elected by parliament. Any understanding on filling the position is expected to include an agreement on a law for holding new parliamentary elections.
Reuters