Months after Russian annexation, hopes start to dim in Crimea, could face years in limbo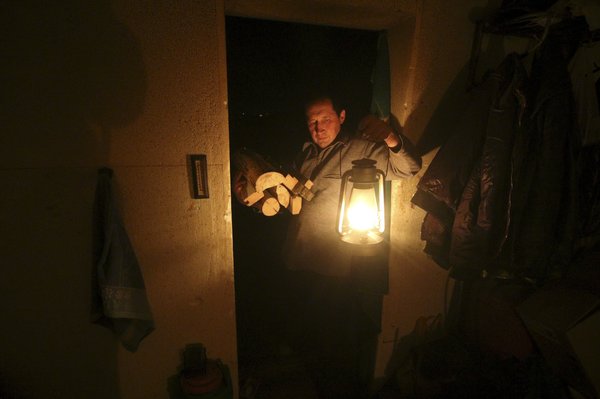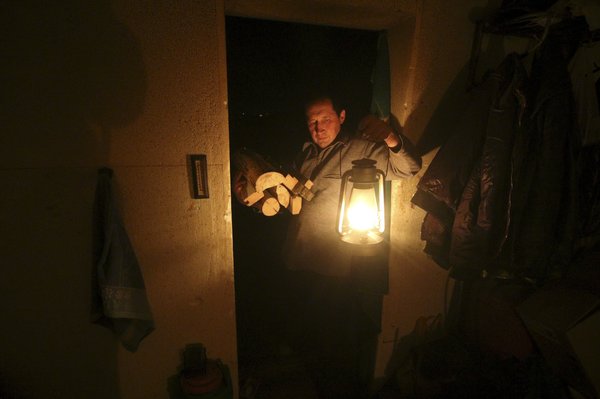 SHCHYOLKINO, Crimea —When residents in this typical Soviet factory town voted enthusiastically to secede from Ukraine and to become Russians, they thought the chaos and corruption that made daily life a struggle were a thing of the past.
Now that many of them are being forced to cook and boil drinking water on open fires, however, they are beginning to reconsider.
There has been no steady electricity supply in this hard-hit town since Nov. 22, when protesters in Ukraine blew up the lines still feeding Crimea with most of its electric power. The bigger towns and cities are only marginally better off.
Yet, people here are not sure whom to blame more for their predicament: the Crimean Tatar activists and Ukrainian nationalists who cut off Crimea's link to the Ukrainian power grid or the local government officials who claimed to have enough power generators stored away to handle such an emergency.
"The circus is gone, but the clowns stayed," said Leonid Zakharov, 45, leaning on a wooden cane. Moscow may have purged Ukrainian authority, he said, but many of the same corrupt and incompetent officials remained in office and life was only slightly less chaotic than before.
Twenty months after the Kremlin annexed the Black Sea peninsula amid an outpouring of patriotic fervor by the ethnic Russian population, President Vladimir V. Putin's promise in April 2014 to turn it into a showcase of his rule now seems as faded as Crimea's aging, Soviet-era resorts.
Crimea, many here are now realizing, could face years in limbo, no longer part of Ukraine but not yet fully absorbed by Russia. Crimeans' dreams of becoming the next Sochi, the $50 billion showcase site of the 2014 Winter Olympics, have crashed right along with the oil prices that have delayed such megaprojects in Russia.
Shchyolkino, a collection of a few dozen squat apartment blocks with no natural gas connection, is particularly hard hit by the power failure, having a maximum of four hours of electricity a day and two of those in the middle of the night. But life is not particularly wonderful anywhere in Crimea right now.
Many restaurants and shops are running on portable generators, displaying them at their front doors to demonstrate to customers that it is business as usual. Their steady growl has become the urban backbeat. After sundown the darkened streets quickly empty. Restaurants close at 8 p.m. and alcohol sales stop at 5 p.m. to encourage people to stay home at night.
Some stores get by without cash registers, and long lines snake out in front of any operational A.T.M.s. Without traffic lights, major city intersections are jammed. Highways are dark, too, so only in broad daylight can travelers see posters of Mr. Putin with the inscription: "Crimea. Russia. Forever." Gasoline is in scarce supply, producing long lines of angry drivers in front of the few stations that have it.
Kerch, a city of ornate streetlights that stand dark, receives at most 15 percent of the electricity it needs. A diesel generator powers the local hospital, a rusty old Soviet building. Alexei Prosolkov, the deputy head for security, said the hospital was functioning normally except for canceling some energy-intensive procedures like X-rays.
Schools have been shut for the past week, though a few are now reopening. A poster in front of one closed school in Kerch said that Crimeans "became victims of a sudden terrorist act, unprecedented in Russian history."
Children in Shchyolkino laughed about their unplanned vacation. At night they play board games by candlelight, they said.
The electricity crisis has its roots in the strained relations between the Crimean authorities and the Tatars, who are demanding an end to discrimination and the release of jailed activists.
The 277,000 Tatar residents of Crimea, a Muslim minority, say they have suffered systemic discrimination under Russian rule, with their independent news media shuttered along with their assembly.
Mr. Putin promised Tatars complete equality and ordered the government to recognize their forced deportation from Crimea under Soviet rule. Nariman Dzhelalov, one of the few remaining Tatar leaders in Crimea, said that the promises proved empty.
"In February, I spoke with very senior government representatives who told me that either we must become subordinate to them or they will make us leave," said Mr. Dzhelalov, 35, sitting in a cafe in central Simferopol. "They said, 'Russia is not very liked in the world already, so if they will dislike us a little more, so what?' "
Feelings have hardened on the other side as well. "The Tatars have not accepted Russian authority here in earnest, for instance they are very glad that Turkey downed a Russian bomber in Syria," said Aleksander A. Formanchuk, a former Soviet public servant and now a local official. "Regardless of what the Russian authorities did, there would still be discontent among the Tatars. This energy blockade was inevitable, but as a result they have lost Crimea forever."

As he spoke, Mr. Formanchuk fielded a steady stream of phone calls from people complaining about the lack of electricity. There was not enough power to make everybody happy, Mr. Formanchuk said, although he agreed that the government could do more to improve the lives of ordinary people.
But that will be hard so long as the main electricity lines are lying in a muddy field in Ukraine. Crimea can generate only one-third of the electricity it needs, and a so-called energy bridge to Russia, a power line scheduled to become partly operational this month, will not close the gap.
Today, the main lifeline to Russia is a ferry to a remote corner of the Krasnodar region that is operating without hindrance during the blackout, but which the Tatar activists have also threatened to halt. In 2014, the Kremlin pledged to spend 658 billion rubles (about $10 billion) to improve the peninsula's infrastructure, including a $3.4 billion bridge to mainland Russia. But little has been forthcoming.
No one is quite sure how long the blackout might last. The Ukrainian government has said the lines should be fixed but made no move to remove the protesters blocking repair crews. Although the Kremlin has voiced concern, it has not tried to force a solution. Russia's Black Sea fleet headquartered in Sevastopol said its operations were unaffected.
For now, new rituals are taking hold. Every day at noon, Shchyolkino's mayor speaks to residents on the city's main Crimean Spring Square, which was renamed during the annexation. Boiled water and warm food are distributed in front of an old movie theater. People can charge their cellphones and watch the latest Russian news on a TV screen, though some said they enjoyed life without television.
As often happens in Russia, some blame Washington rather than Moscow or Kiev.
"If it wasn't for the Americans none of it could have happened. The Tatars, who are supported by the United States, would not do a thing," said Tatyana Bragina, 57, an energetic woman who also once worked construction at a nearby, unfinished nuclear plant.
"Please write that we are not desperate. On the contrary, we are full of joy," Ms. Bragina said, standing near a black iron kettle boiling away in the courtyard of her apartment block.
NY TIMES