Freed ex-wife of Islamic State leader decided to return to Beirut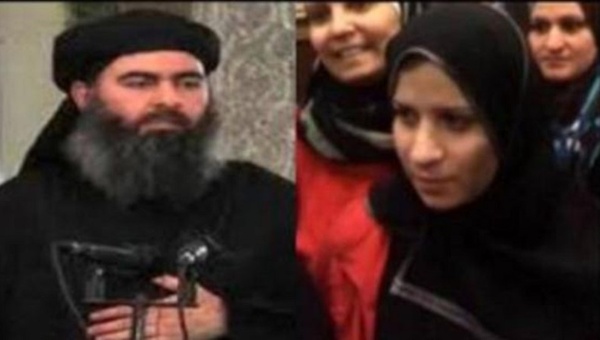 The former wife of Islamic State leader Abu Bakr al Baghdadi has been released from a Lebanese jail along with other prisoners in exchange for 16 soldiers and policemen held by Syria's al Qaeda affiliate, but she decided not go with Nusra militants and returned to Beirut with her children
The Lebanese troops were captured by the Nusra Front in an attack – also involving IS – on the border town of Arsal in August 2014.
IS is believed to still hold another nine soldiers taken during the battle.
Television footage showed the men getting into Red Cross vehicles before being driven to an army checkpoint.
As they left, Nusra Front fighters waved the group's black flag and chanted Allahu Akbar (God is great).
"We accomplished the entire agreement with Nusra. We received our heroic soldiers and we are on our way back to Beirut," Lebanese General Security chief Abbas Ibrahim said.
"This joy will not be complete until the return of those kidnapped by Daesh (the Arabic name for IS). We are ready to negotiate … if we find someone to negotiate with."
Speaking to Al Jazeera after the exchange negotiated by Qatar, one of the captives said the group had treated them well.
"Praise be to God. The joy cannot be described," said another.
Baghdadi's ex-wife, Saja al-Dulaimi – who was arrested trying to cross from Syria to Lebanon last year – was among the Islamists freed from prison as part of the deal.
Nusra Front fighters were shown kissing and hugging Dulaimi's children, but it was later reported that she decided not to go with the militants and returned to Beirut, from where she planned to travel on to Turkey.
"They say that I was the wife of al-Baghdadi. I don't know, we have been divorced for six or seven years," she told journalists at the border.
Qatar has been trying to organise a release for more than a year. Its previous effort broke down after one of the captives was killed.
The body of Mohamed Hammiyeh, one of the Lebanese soldiers killed in captivity, was returned on Tuesday. The whereabouts of the remains of four others who have died since being taken hostage were not immediately clear.
SKY NEWS