Security chief vows not to abandon bid to free Lebanese hostages despite setback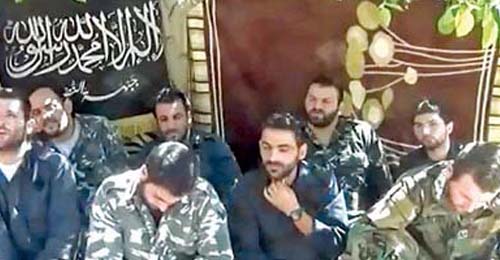 General Security chief Maj. Gen. Abbas Ibrahim vowed on Monday not to abandon  the attempts to release the kidnapped soldiers after the setback suffered on Sunday due to the last minute impossible demands set by the kidnappers, al-Joumhouria daily reported on Monday.
"I will not stop working and striving. I will continue the efforts despite the policy of blackmail. Those are our sons and the sons of the nation and I will never give up on them," he told the daily.
"We had finalized everything concerning the swap deal. We have shown flexibility in meeting new demands and conditions of al-Nusra and we completed all requirements needed to finalize the deal until things got to the point we could no longer respond to the intolerable demands presented by the kidnappers at the last minute," Ibrahim told the daily.
Negotiations to free the Lebanese servicemen who were abducted by al-Nusra Front suffered a setback on Sunday afternoon, after steps on the ground and media reports gave the impression earlier in the day that the exchange was imminent.
Despite several media reports about the freeing of the Lebanese soldiers by the al Qaeda linked al Nusra front negotiations  suffered setbacks on Sunday afternoon but according to  Ibrahim the negotiations are still ongoing and have not collapsed yet.
According to Kuwaiti newspaper Al Anbaa  the Syrian regime was behind the failure to release the Lebanese servicemen
According to the report a dispute over the names of Nusra prisoners to be released from Syrian jails resulted in the breakdown of the negotiations.
But the Qatari team that is handling the negotiation continues to mediate their release and is coordinating its effort with Abbas.
In a press interview on Monday with An Nahar daily , Ibrahim said the deal did not fail and that the negotiations are still ongoing. He vowed that attempts and striving to free the servicemen will continue in spite of the 'blackmail policy'.
A deal was reportedly reached for the release of 16 servicemen being held by Al-Nusra Front in exchange for terrorists detained in Roumieh prison and women, jailed in Lebanon and Syria  but at the last minute the Front added names to the initial list, according to Al Manar TV.